CAAN recommends discount on landing charges at TIA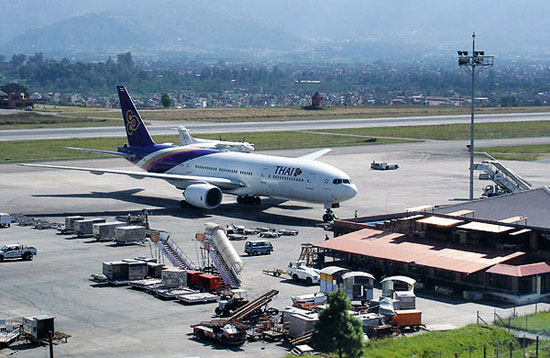 The Civil Aviation Authority of Nepal (CAAN) has recommended giving foreign airlines a 15 percent discount on landing charges at Tribhuvan International Airport (TIA) amid complaints that fees are higher here. CAAN said charges could be reduced during the lean hours after 5 pm.
The CAAN board had approved reducing the fees on Feb 17. The period between 6 am to 5 pm is normal hours while lean hours start from 5 pm.
CAAN has asked the Ministry of Culture, Tourism and Civil Aviation to direct Nepal Airlines Corporation (NAC) to amend its landing and parking tariff accordingly. NAC has been providing ground handling services to all the international airlines at TIA except Thai Airways and Indian Airlines.
CAAN's recommendation also states that new airlines can be charged 15 percent extra for landing and parking slots during normal hours.
Ministry officials said that CAAN wanted to reduce the fees as foreign carriers have been complaining that TIA was an expensive airport. Gulf Air has decided to pull out from March 27 citing high ground handling charges. It is the first carrier from the Middle East to serve Nepal, and currently operates 14 flights a week.
As per Gulf Air, ground handling charges for A320/321 and A330/340 aircraft at Delhi amount to US$ 1,200 and US$ 1,650 respectively. In Nepal, the charges for A320, A330 and A340 aircraft are US$ 2,025, US$ 3,960 and US$ 4,680 respectively. Similarly, the ground handling charge in Bangkok for an A330/A340 is US$ 2,400.
NAC earns more than Rs 2 billion annually from ground handling, and it has become the troubled national carrier's bread and butter. NAC pays 10 percent of its earnings to CAAN. Complaints over NAC's ground support service due to rising theft, missing baggage and tampering had prompted CAAN to look for alternative service providers at different times.
Last year, CAAN had mulled hiring a private firm to provide service in the night time so that the quality of service of the two could be compared. The plan fell apart due to NAC's protest. Ministry officials said that efforts to find an alternative to NAC had been abandoned due to pressure from NAC employees and unions.
Airlines and CAAN officials were of the view that the only way to improve ground services at TIA was to break NAC's monopoly. International airlines operating in Nepal posted an 8.33 percent growth in passenger movement in 2012.
TIA figures show that 29 international carriers flew 2.925 million travellers in and out of TIA last year. In aggregate, foreign and domestic carriers flew 4.500 million travellers (1.575 million by domestic airlines) in 2012. International airlines movement increased 2.31 percent to 23,320 flights in 2012.