Nepal Telecom's Sky Pro internet reaches Mechi, Koshi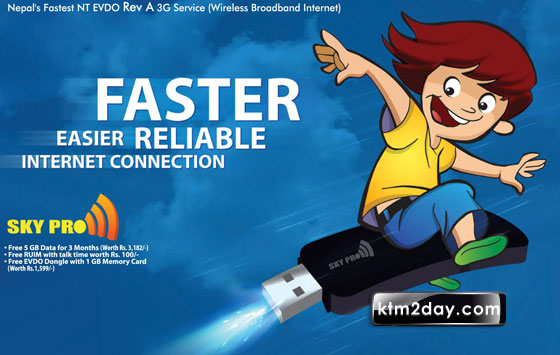 Nepal Telecom (NT) on Wednesday started sales of EVDO RUIM cards by bundling them with USB dongles in Mechi and Koshi zones.
The RUIM cards provide access to NT's Sky Pro service. It said they would go on sale in Seti and Mahakali zones from Thursday.
Customers buying the package get a RUIM card, USB dongle and 5 GB data service with a validity of three months for Rs 2,359, said NT in a press release.
The Sky Pro service is based on IP CDMA technology and provides both voice and data service at speeds of up to 3.1 Mbps.
Anoop Ranjan Bhattarai, director of NT's Wireless Telephone Directorate, inaugurated the sales schemes for Mechi and Koshi amid a programme in Itahari.
NT's Sky Pro service is now available in 46 district headquarters and major business hubs across the country except in Karnali and Sagarmatha zones.
NT's old CDMA network is available in all 75 districts. It also plans to extend its Sky Pro service to all the districts before Oct.