Telcos and ISPs compete over data service market share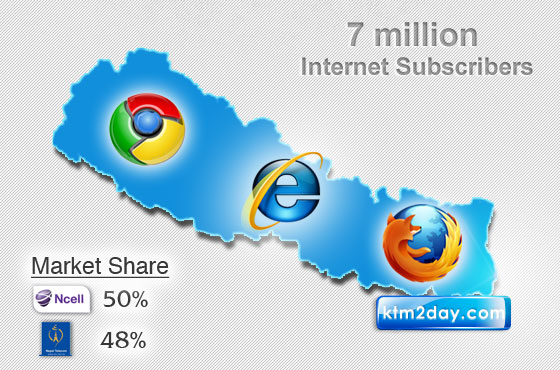 Ncell and Nepal Telecom (NT) dominate the country's data service (internet) market. According to the latest report of the Nepal Telecommunications Authority (NTA), the two telecom giants hold a 50 percent and 48 percent share of the market respectively.
NTA statistics show that there are around 7 million internet subscribers in the country. Easy access to GPRS service, tariff cuts, increased trend of using smartphones, social media craze among youngsters and increasing ICT knowledge have led to a significant growth in the number of data users.
Ncell has over 3.4 million subscribers in data, using services like GPRS, EDGE and 3G internet in mobile. Meanwhile, NT has a total of 3.2 million customers in data service. NT's date service is offered through ADSL, WiMax, EDVO, dial-up, GRPS, EDGE and 3G.
With the number of smartphone users growing fast, telecom companies have been aggressively pushing attractive packages in data service, making it harder for ISPs to compete in the market. Ncell started an aggressive pricing and marketing strategy making it the leader in the data segment also. Ncell's data package ranges from 3 MB to 10 GB.
Of late, NT has also been moving up with the launch of WiMax. The state-owned company has also launched an offer for users of Sky Pro where customers paying Rs 2,359 can get a 5 GB package, USB dongle and RUIM card. There are around three dozen ISPs operating in the country, but their growth in the data service business compared to telecom companies is very slow. Of the total market for data, ISPs have a 1 percent share with 85,821 plus customers, as per the NTA.
Meanwhile, president of the Internet Service Providers Association of Nepal Binay Bohara blamed poor infrastructure and weak access to wireless service for preventing ISPs from moving ahead aggressively.
In a bid to regain the market share lost to phone companies, the country's leading ISPs—Worldlink Communication, Vianet, Subisu Cable Net and Classic Tech—have slashed prices for internet service.
ISPs that had turned mainly to the corporate segment for service expansion are now making a comeback among household customers by offering high speed and quality service at competitive rates. "With the surge in demand, many ISPs are
now targeting individual users rather than focusing on corporate clients," said Bohara.
To attract new customers and take on the telecom giants, ISPs have also launched different volume-based packages for mobile internet where prices are fixed on the basis of different packages. According to the scheme, "the bigger the package bought by customers, the less the cost for data".
The new aggressiveness shown by ISPs has eventually benefited common consumers. With the new offers from ISPs, prices have declined and there are a
range of services to choose from based on the size of one's budget and the required connection speed and data volume.