Domestic airlines hike fuel surcharge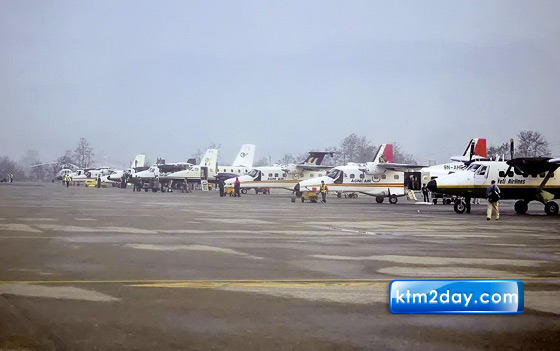 Domestic air travel is going to be costlier again, with private airlines hiking fuel surcharge by Rs 80-270. The new revision, which comes less than a month since last revision, will come into effect from Sunday.
In the last one and half years, airfares have gone up by Rs 2,500 on long-haul routes and Rs 1,000-1,200 on short-haul sectors, and the impact has been visible, with the number of air travellers decreasing.
Nepal Oil Corporation (NOC) on Tuesday hiked air turbine fuel (ATF) prices by Rs 7 per litre to Rs 137 per litre. Airline operators said after the hike in fuel prices, they were left with no option but to jack up the fuel surcharge to cut losses.
On August 10, NOC had hiked aviation fuel prices for domestic carriers by Rs 10 per litre to Rs 130 per litre.
"The recent hikes in ticket prices have yet to make a visible impact on airlines. But if the trend continuous, life will be difficult for airlines," said Roshan Regmi, sales and marketing manager at Yeti Airlines.
Airline officials said as fuel costs account for 30-35 percent of the total cost, fuel becomes the single biggest factor in losses if fuel surcharge is not raised. Airlines are not keen on ramping up fares to match rising fuel prices amid a slowdown in passenger growth.
High airfares and convenient surface transportation have caused a decline in domestic air passenger traffic. Domestic passenger movement through Tribhuvan International Airport (TIA) dropped 3.60 percent year-on-year to 772,873 in the first six months of 2013.
And operators said that passenger movement will decline more given the existing airfare structure.
"Air travel has now become unaffordable for many flyers," said Prajwol Thapa, senior marketing manager of Simrik Airlines. "Nowadays, airlines are incurring losses in numbers of destinations they are flying."
Thapa, however, said the hike in fuel surcharge will not impact airlines this peak season—September-November—as flyers afford to pay the cost.
The Airlines Operators Association of Nepal (AOAN) has even asked the government to take the fuel price hike seriously. NOC is enjoying a profit of Rs 27.51 on a litre of aviation fuel sold to domestic airlines.
Airline officials said it was not justifiable to take such a huge profit from aviation fuel in the name of offsetting NOC's losses.
Domestic airlines are permitted to increase fuel surcharge if fuel prices go up by Rs 4 and above. With the increase in fuel surcharge, ticket prices on the Simara sector has been increased by Rs 80, while the Dhangadhi sector will see the highest hike of Rs 270. For mountain flights, passengers will have to pay an additional Rs 260.