Tata launches Indica CR4 and Indigo eCS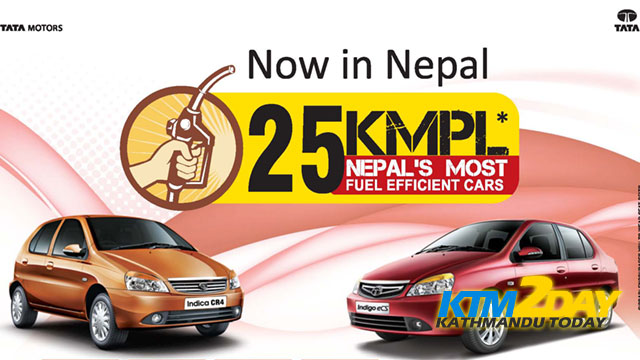 Sipradi Trading, the authorized distributor for Tata vehicles in Nepal, has launched Tata Indica CR4 and Indigo eCS in the domestic market.
The cars were launched during the premiere of Nepali movie – Mukhauta.
The company has claimed that these cars are fuel-efficient delivering a mileage of 25 km per liter, and are certified by Automotive Research Association of India (ARAI).
The mileage of both the cars is based on three technological advancements — Smart EMS (Engine Management System) Chip, Maximum Charge Combustion and Drag Reduction, according to the company.
Both the cars feature the all new Common Rail CR4 diesel engine.
"These cars are distinctively stable on highways and can negotiate all driving conditions with utmost ease," Shambhu Dahal, CEO, Sipradi Trading said, in the launching ceremony, adding that the cars are complete family cars, offering best-in-class space, features and utmost safety.
The engine in both the cars has a displacement of 1,396 cc delivering 70 PS at 4,000 rpm and have a higher torque of 140 Nm at a lower 1,800-3,000 rpm. Both the cars are compliant with BS4 emission norms, according to the company.
The Auto-Drive Assist feature in both cars ensures that while climbing a gradient, the engine will not stall even if the foot is completely taken off the clutch, thus enabling the driver to easily shift his foot to the accelerator.
According to the company, the Clutch-To-Start feature in the cars ensures that one cannot crank the engine unless the clutch is fully engaged, reducing the risk of re-crank if engine is on.
Available in four color options, Indica CR4 is available in the range of Rs 1.94 to Rs 1.99 million, while Indigo eCS is priced between Rs 2.4 million and Rs 2.6 million.