Tata Xpres-T Electric Taxi Launched in Nepal : Specs, Features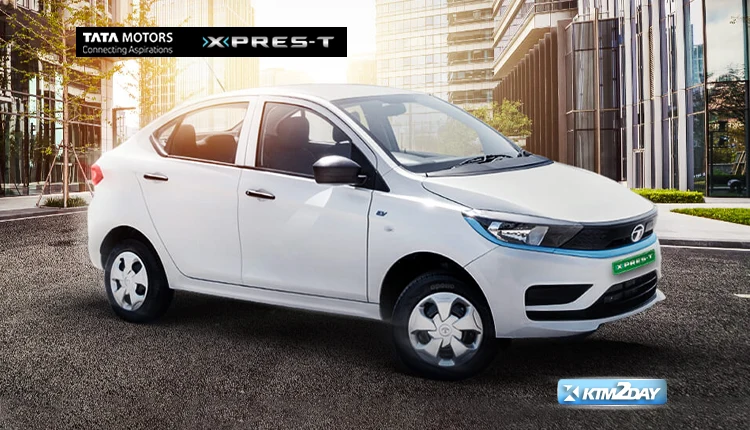 Tata, a commercial vehicle manufacturer, has introduced electric taxis to the Nepalese market. Sipradi Trading, the sole authorized dealer of Tata automobiles in Nepal, has imported the sedan car Xpres-T, which is perfect for use as electric taxis, into the country.
After Nepal's government passed the legislation required to operate electric taxis, Tata began making internal preparations to deliver the Xpres-T model to the country. Sipradi's dedicated showroom serves as the hub of its service network for this model.
Also Check  : Tata Car Price in Nepal
Tata has stated that they will introduce taxis that can provide a wide range of amenities to ensure that drivers face no difficulties as a result of the government's strategy to prioritize electric vehicles.
Tata's new cab, the Xpres-T, features a 55 kW electric motor and a 26 KWh lithium ion battery. It generates 170 Nm of torque. Range on a single charge is 306 km, as stated by the Automotive Research Association of India (ARAI).
This cab has enough room for five people to drive in comfort. To make a turn, you'll need a space of only 5.1 meters. There's 316 liters of trunk space.
This vehicle measures a total of 3993 millimeters in length, 1677 millimeters in width, and 1532 millimeters in height. Equally standard are a wheelbase of 2450 mm and a ground clearance of 172 mm.
The Xpres-T can be charged from empty to 80 percent in around 9 hours with a 15 ampere charging connector, according to the manufacturer.
The Xpres-T is compatible with both AC and DC charging. It takes the same 65 minutes to charge to 80% capacity using a DC fast charger with a 25 kW output.
This vehicle features both disc brakes on the front wheels and drum brakes on the rear, as well as a selectable multi-drive mode. In addition to its wheel-assist technology, this electric taxi has a number of other appealing characteristics.
It boasts a couple of safety features including airbags, anti-lock brakes with electronic brake distribution, electric windows, and a display for the driver's vital statistics.
Special packages available
Taxi drivers who invest in Tata's electric vehicles can take advantage of a specialized bundle the firm has put up for them. Customer receives a 3-year / 1,25,000 kilometer guarantee on the battery pack and motor.
Also Read : Government Sets Out Criteria For Standard And Deluxe Electric Cabs In Bagmati Province
The company also pays for your insurance and registration for a full year. In addition, a digital board with "taxi" inscribed on it, a mud guard, a floor mat, door visors, a reverse parking camera, a GPS system, a spare tire, and other accessories will be installed.
The vehicle's purchase price includes up to three years of maintenance and repairs from the company. There will be no hidden fees for the customer. This will ensure that the client is aware of any potential costs that may arise.
Tata Xpres-T Price in Nepal
With a price tag of Rs. 36,99,000 in Nepal, Sipradi is getting ready to launch sales of the Xpres-T model EV as a first electric taxi in Nepal.