NEPSE 100 points short from reaching all time high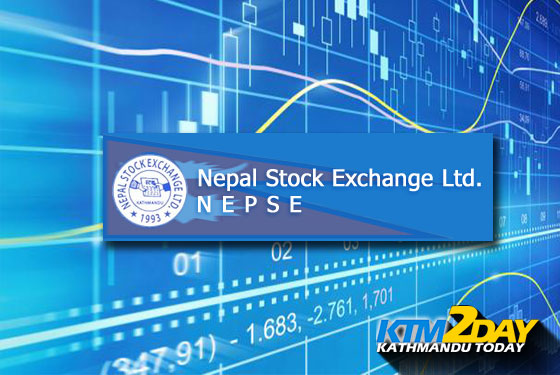 Nepal Stock Exchange (Nepse) recorded the highest ever single-day transaction of Rs 1.2 billion on Monday. The surge in the market turnover has been attributed to improved investor confidence after the monetary policy, relatively stable political situation, surplus liquidity with banks, and improved stock trading system.
Over the last few months, the average market transaction has stood at around Rs 400 million, according to stockbrokers. On Sunday, the turnover was at Rs 966 million.
Nepse Spokesperson Sambhu Pant said it was the first time Nepse recorded such a high transaction in the past two decades of Nepse's operation. "We have improved the information technology, speeding up the stock trading process," he said.
Investors said the rise in the market transaction has boosted their confidence. Denying the possibility of overpricing due to market manipulation by a few big players, Sunil Kumar Neupane, an investor, said the market was getting matured.
Neupane said investors were also eyeing full-fledged implementation of the online clearing system through the Central Depository System, adding an improvement in the trading system also helped boost the market transaction.
For the last two months, Nepse has been providing access to the trading software to brokers through two computers, which has helped the brokers carry out large transaction volumes on a daily basis.
Bharat Ranabhat, managing director of Kohinoor Investment and Securities, attributed the market growth to increasing investor confidence. "An improvement in the trading system, and plans to implement online clearing, catalysed the growth," said Ranabhat.
Ranabhat said the beginning of the new fiscal year (when most of the companies announce dividend) and falling interest rates on deposits diverted investors to the share market. He said the demand for banks and financial institutions (BFIs) shares is high as these companies are offering 35-40 percent annual returns on an average. The stockbrokers also attributed the monetary policy measures for the surge in the market. "As the policy has talked about proper management of BFIs, the demand for BFIs' shares has increased in particular," said Sharada Nepal of Sagarmatha Securities.
The benchmark Nepse index rose 8.56 points on Monday to close at 1,083.53 points. The group representing hotels (up 37.63 points) was the top gainer. Among the BFIs, Nepal Finance Limited gained the highest 10 points. Nepal Bank Limited posted the highest turnover of Rs 306.15 million.