Solar Plants of capacity 200MW to be built within a year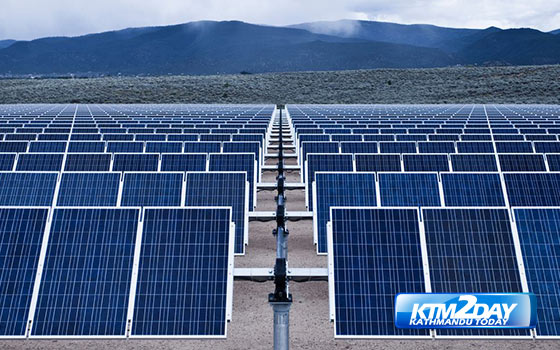 Prime Minister KP Sharma Oli has announced that the government will build solar plants with capacity of 200 MW and connect the power generated by the plant to the national grid within a year.
Addressing the nation on Sunday, he also said the government will promote renewable resources, including bio-fuel, to make the country self-reliant on cooking fuel.
Oli also said security agencies as well as hostels, schools, jails and colleges will install bio gas plants in their kitchens.
PM Oli also said the government will promote the use of electric stoves and electrical vehicles. He also said that the government will also expedite construction of undergoing hydropower projects.
Meanwhile, officials have started discussion with the delegation of Asian Development Bank to work out a plan for installation of solar plants of 50 MW.
Talking to Republica, ADB's Country Director Kenichi Yokoyama said the concessional loan of US$ 20 million to Nepal for solar plants is in pipeline. The fund will be channeled through Climate Investment Fund and set for the next year.
However, ADB is expediting processing of the assistance, responding to the government's request.If implemented, the plan can make significant contribution in dry months as daily peaking hydropower projects can store water during daytime and generate power to meet peak hour demand.
The Sundarighat-based solar plant (680 KW) built by Asian Development Bank is the largest solar power plant in the country so far.
In another development, Nepal Electricity Authority (NEA) has started the process to award contract for installing solar plants having combined capacity of 25 MW in Pharping, Kulekhani, Trishuli and Devighat. Power generated by these plants is expected to be connected to the national grid by the end of this fiscal year. The project is funded by the World Bank.
Solar plants are becoming feasible in recent years, thanks to sharp fall in price of solar panels it the international market. Experts say price of solar panels has come down by around 50 percent over the past three years. Drop in price of solar panels have brought down per unit cost of the solar energy to around Rs 11.