NT unveils social networking site – MEET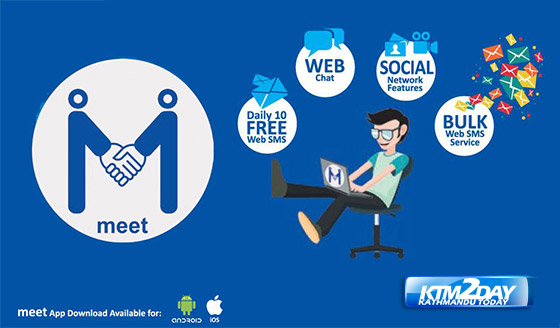 State-owned telecom giant Nepal Telecom (NT) has unveiled a social networking platform named MEET, which is also expected to help NT develop a unified communication system (UCS) to integrate the varied services and facilities it provides.
Minister for Information and Communication Sher Dhan Rai released the web address www.meet.net.np amid a programme on Monday.
The social networking platform MEET, which has been developed at a cost of Rs102 million, permits people to share text, pictures, audio and video, the telecommunications service provider said.
The newly introduced product also allows the company to interact with its subscribers.
NT subscribers can log on to the platform directly through the website or through a MEET application available from Google Play Store and App Store. They have to use their valid GSM or CDMA phone numbers to register.
Customers can send up to 10 SMS daily without charge. They can use the bulk SMS facility which allows them to send up to 5,000 SMS at a time.
"I am sure this new platform will help people connect and get closer to NT. The platform will also help to make people more aware," Rai said, addressing the inaugural ceremony. The minister stressed the need to enhance the quality of NT's service and increase access to remote areas.
NT Managing Director Buddhi Prasad Acharya said the company had been striving to provide better quality service and enhance its capability to serve its customers better. "This product is in line with the company's vision of providing new and value added services," Acharya said. "We will continue upgrading it and introducing new facilities."
As per the Nepal Telecommunications Authority (NTA), NT had 13,244,356 voice telephony subscribers as of mid-September 2015. Among them, 11,156,138 were subscribers of its GSM service. The NTA's data shows that NT shares the leading spot in telecommunication services with Ncell. The two companies have a market share of 46 percent each.