Ncell pays Rs 9.96 billion in taxes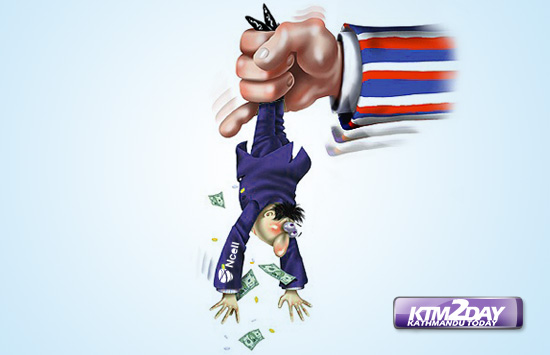 Ncell has paid Rs 9.96 billion capital gains tax to the government.
The telecom operator informed about payment of tax by organizing a press meet in Kathmandu on Sunday.
"We paid the tax as per the directive of the Large Tax Payers Office (LTPO)," Ncell said in a statement distributed at the press meet, adding: "We had been directed to calculate and make deposit 15 percent of the total gains involved while TeliaSonera Norway Nepal Holdings AS (Telia Norway) sold the shares of the off-shore company Reynolds Holdings Limited."
Reynolds owns 80 percent of Ncell shares.
Ncell officials said that the deposit of the advance tax was made to the government under the company's commitment to work in close partnership with the government and people of Nepal. "We reiterate that the transaction involved the sale of Reynolds shares by Telia Norway, and Ncell had not been involved in the transaction at all, neither has it made any payment or received any payment arising from the transaction," reads Ncell's statement.
Claiming that the company has consistently complied with the laws of the country and is also the largest taxpayer to the government, Ncell also informed that the company has decided to extend its fullest cooperation to the government of Nepal in reaching a resolution of prevailing issues with respect to the levy of capital gains tax. "Notwithstanding the fact that the computation and declaration of capital gains tax, if any, is the responsibility of the seller of shares, the company had proceeded to place a deposit of advance tax on behalf of the previous owners of Reynolds," the statement added
The CGT in share transaction of Reynolds has become a hot issue in the country. The government managed to collect tax from Ncell even though the responsibility of paying CGT rests on the seller, according to existing laws.
TeliaSonera, on December 21 announced to divest its share and exit from Nepal as per its strategy to pull out from Eurasian markets. Questions about CGT were raised from that very date. TeliaSonera has been maintaining that transaction of Reynolds, which is based outside Nepal, was out of jurisdiction of Nepali tax law.