Nepal Rastra Bank issues blind friendly banknotes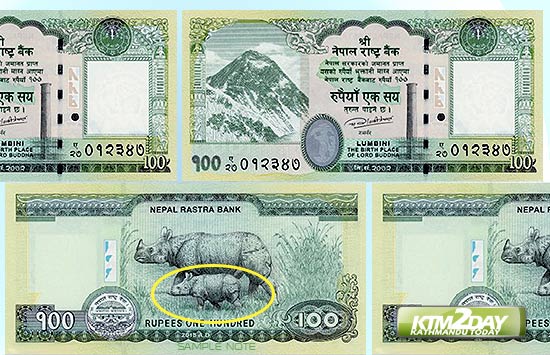 Nepal Rastra Bank has issued Rs100 denomination banknotes with a feature which allows visually impaired people to recognize them. This is the first time that paper money that has been specially designed for the benefit of blind people has been put in circulation, the central bank said.
The currency notes which entered the market on Sunday have a raised black dot which visually impaired people can feel with their fingers and find out the denomination. NRB Spokesperson Trilochan Pangeni said that the new feature of the notes would make it easy for everybody.
Another feature of new banknote is the depiction of two rhinos on the back—a mother and her calf—while the old note had only one. "The picture of the rhinos is based on photographs of rhinos found in Nepal, and it is intended to spread the message of wildlife conservation" said Pangeni.
The obverse has an image of Everest on the left, a map of Nepal in the middle and an image of the Ashoka pillar with the text 'Lumbini is the birthplace of Lord Buddha'. There is a picture of the temple of Mayadevi, mother of Lord Buddha, on the left side of pillar.
The note has a 2-mm-wide security thread which looks red or green depending on the angle of view. According to Pageni, this is the first banknote bearing the signature of new NRB Governor Chiranjeevi Nepal.
The central bank is also planning to issue notes of Rs1,000 denomination bearing an image of two elephants, he said.