New scooters lined up for launch in Nepal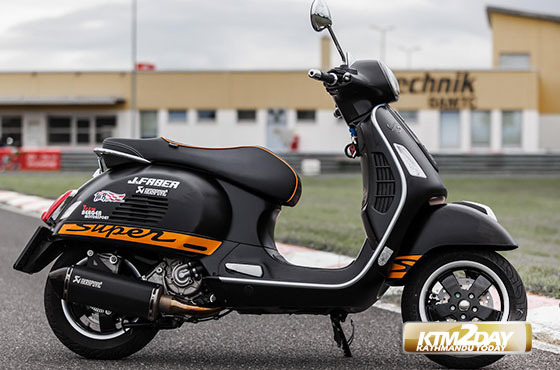 Scooter dealers have readied a slew of new models for launch in the upcoming months amid growing demand.
D-lifestyles, the authorised dealer for Piaggio and Vespa two-wheelers in Nepal, has planned to roll out two new scooters– the Vespa GTS 300 and Vespa 946. The GTS 300 is expected to be unveiled in the next three months.
The GTS 300 is a single-cylinder 278cc scooter with a fuel tank capacity of 9.10 litres. The machine delivers a top speed of 130 kmph. It features 220 mm disc brakes both in the rear and the front with two dual effect shock absorbers in the rear suspension.
The scooter will be available in two shades, midnight blue and daring plum. The scooter is priced at IRs225,000 in India and the price in the Nepali market is yet to be fixed, company officials said.
Likewise, the Vespa 946 features a single-cylinder four-stroke engine with catalytic converter and electronic fuel injection. The scooter has an 8.5 litre fuel tank and delivers a maximum speed of 93 kmph.
Other features include a full LCD multifunction instrument panel, 12-inch wheels and LED headlights and taillights.
"Demand for Vespa is high in the domestic market," said Sumit Timalsina, marketing manager of D-lifestyles. "Due to its unique design and long legacy, Vespa scooters have been gaining popularity in the domestic market."
According to Timalsina, the company has observed great interest in the machine, and customers are willing to wait a month for delivery after booking it. "We have also revised our growth projection in line with the swelling demand this year," said Timalsina.
Likewise, Syakar Trading, authorised distributor of Honda vehicles, is also set to roll out a 125cc scooter, the Activa, in August. According to officials, the new machine will be an upgrade to previous models like the Aviator and Dio.
"The design of the scooter has been revised as per customer preferences and demand," said Rajan Raj Puri, manager of Syakar Honda two-wheeler-segment. "Moreover, we are also planning to launch a new model, the Shine SP, in the Shine motorcycle line-up."
The Honda Activa 125 features a five-litre fuel tank with a reported mileage of 50 km per litre. The vehicle is powered by a 125 cc engine that can deliver a maximum torque of 10.10 nm at 5,500 rpm.
The vehicle is priced from IRs57,931 to IRs68,200 in the Indian market. According to Puri, Honda has secured a 65 percent market share in the scooter segment in Nepal because of brand loyalty.