USA provides Nepal duty-free access to travel goods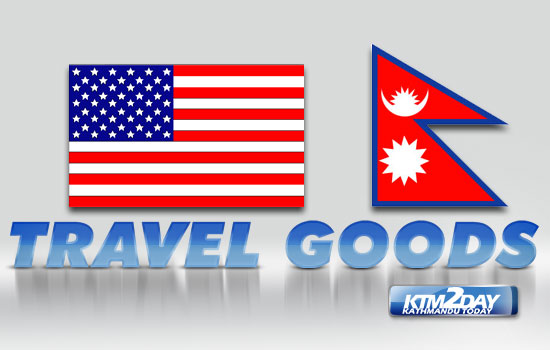 Nepal has received duty-free market access in the US for its travel goods such as luggage, backpacks, handbags and wallets under the Generalized System of Prefe-rences (GSP) programme along with various other least developed countries (L DC), the US Embassy said here on Wednesday.
The US Trade Representative's office announced the Annual Product Review under the GSP programme which added duty-free status for travel goods.
"The new rule makes these products eligible for duty-free status beginning July 1," the embassy said in a press release. US imports of travel and luggage products totalled almost $10 billion in 2015.
"This is a tremendous opportunity for Nepali businesses to expand their exports to US markets," said US Ambassador to Nepal Alaina B Teplitz. "A strong commitment to open-market policies, a stable and transparent legal environment that secures property rights, policies that foster dynamic entrepreneurial activity and strategic infrastructure investments will help Nepal make the most of this opportunity."
According to Kailash Raj Pokhrel, economic counsellor at Nepali embassy in the US, Nepal has received the duty-free facility for 27 items. These items are in addition to the 66 garment products that have received a similar facility under a separate Nepal-specific legislation, Pokhrel told the Post.
In 2015, Nepal ranked second, after Cambodia, of all LDC exporters of luggage products to the US, according to the embassy. Nepal's exports of these products have grown 7 percent since 2014, totalling $1.8 million in 2015.
Although the GSP facility covered 5,000 items from 127 countries, the list included only 5 percent of Nepali products, including flags, caps, cigars and scarves, among others, of the total items exported to the US. Now, the new items have been added to the list of goods for which Nepal will get duty-free market access in the US.
Earlier, in February, US President Barak Obama signed legislation authorizing special trade preference to Nepal providing duty-free market access to 66 types of garment items including certain carpets, headgears, shawls, scarves and travel goods. This is a new Nepal-specific tariff preference programme while the GSP is a 40-year-old trade preference programme, the oldest such programme.
Under the GSP, the US provides duty-free treatment for many imports from beneficiary developing countries, and additional products for the LDCs.