Lalitpur Mobile Expo 2017 to be held from Jan 27 – Feb 4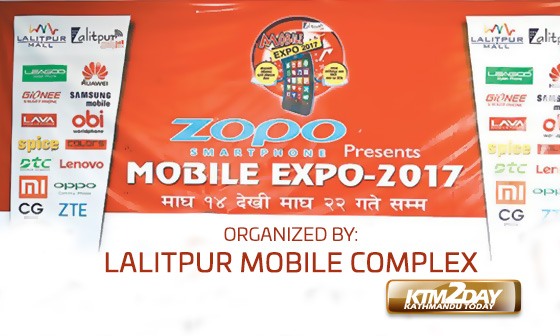 Lalitpur Mobile Expo 2017 is scheduled to kick off on Friday. The nine-day exhibition organised by Lalitpur Mobile Complex will be showcasing a wide range of the latest mobile phones, gadgets and related accessories from various brands.
According to the organiser, the expo aims to offer quality products under the theme 'Mobile Kinau Bujhera, Upahar Chhanau Rojera'.
Visitors can also get mobile repairing service besides branded mobile phones from authorised distributors. The mobile sets at the fair will have price tags ranging from Rs1,000 to Rs140,000.
Color F5 from Zopo, GR5 2017 from Huawei, C9 Pro from Samsung, S6s from Gionee, A3 from Lava and P85 Plus from Colors will be among the main attractions at the expo.
Likewise, Gear Max from DTC, SF 1.5 from Obi, Axon mini from ZTE and F1s from Oppo are also expected to draw large numbers of mobile enthusiasts. "Apart from them, iPhone 7 and iPhone 7 Plus will be added attractions," the organiser said.
Purushottam Basnet, chairman of Lalitpur Mobile Complex, said they were organising the exhibition in a bid to promote branded products besides discouraging the grey market in mobile sets.
Cell phone buyers will get a discount ranging from 5-70 percent sold at the expo. Customers will be offered a mobile phone free on purchase of a smartphone from Microsoft. Likewise, sellers will be offering gifts like power bank, selfie stick and Bluetooth speaker to their customers.
The organiser expects a footfall of 300,000 and a turnover of Rs50 million at the expo.
Lalitpur Mobile Complex is a platform which offers multi-brand mobile phones under a single roof. It houses over 40 mobile phone stores.
The shopping complex has been conducting similar expos almost every year. Last year, it organised a mobile expo in September.