Book Taxis Online with Onver and EddyCab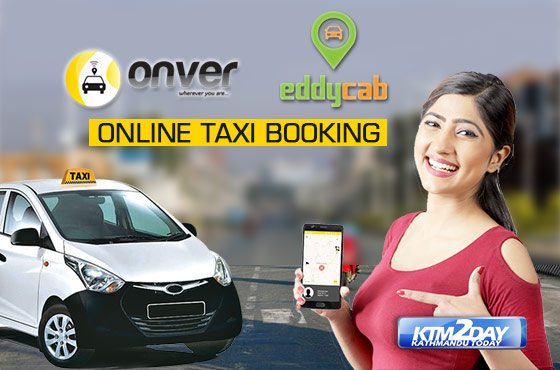 A solution to the hassles of finding a taxi to take you to your destination has arrived in Kathmandu in the form of ONVER and Eddy Cab taxi booking services.
With public transportation being unreliable and congested, taxis have become the primary means of personalised public transport in the Kathmandu Valley.
However, finding a taxi and bargaining the fare can be quite difficult. You can now call a taxi to your doorstep by making a phone call or using a mobile app that you can download from Play Store.
ONVER is a company that brings a taxi to your door through a direct call or through an app. The online service is available 24 hours and the call centre operates from 7 am till 9 pm. ONVER sends a taxi nearest to you after you submit your location and destination, and it costs not a single rupee more than the government mandated taxi fare.
"Currently, we do not take any commission from the taxis as we are just trying to establish the company," said Om Khada, managing director of ONVER. "The future, however, looks very promising for the company and for the people of the country who require a taxi."
ONVER, which started operations last October, currently has over 200 taxis. They charge a bit extra if they have to come from more than 1 km away, otherwise it is a no-bargain meter fare, and passengers can only pay in cash.
Similarly, Eddy Cab is an app which can be found on App Store or Play Store, and it will start connecting customers to its various cabs all over the Valley soon.
The tech company has been working on the app for over a year now, according to Eddy Cab's marketing manager Cristina Shrestha, and it will come into operation within the next two weeks.
"We spent a good whole year give training and signing agreements with taxi drivers," said Shrestha, "We have been receiving both positive and negative feedback during the ongoing test phase, but generally, the drivers are happy and so are many others."
Eddy Cab accepts only cash in payment. However, customers have to pay an extra Rs16.95 per trip which goes to the company. Otherwise, they charge the regular taxi fare. Of the Rs16.95, Rs15 goes to the company and the remaining Rs 1.95 is 13 percent VAT.
Taxi drivers receive the fare in cash and submit the company's share by mobile phone top-up.
"I have been using online calling for ONVER and it is really helpful," said Raunak Pradhananga, a 12th grade student. "At times, however, there are no taxis under ONVER nearby and it causes problems. So, I would be happy to see other companies like Eddy Cab come so there are more taxis to choose from."
Right now, the number of rides for ONVER is not very promising with just about 15-20 rides online and 10-15 through calls.
"It is a major challenge to connect with drivers as not all of them are habitual users of smartphones," said Khadka of ONVER, "They are not in the habit of always being connected to the internet. Also, we do not currently have as many taxis under us as we would like."
To tackle a similar problem, Eddy Cab has been distributing phones to taxi drivers and also educating them about its use. "We have done months of preparation to make the soft launch a successful one," said Shrestha of Eddy Cab, "For us, we do not know how the market is going to respond, but we anticipate a great reception in the days to come."
Google PlayStore Link:
Onver Smart Taxi – Download App   Website
Eddycab:Taxi Booking in Nepal –  Download App  Website