Millennium Baby Care products launched in Nepal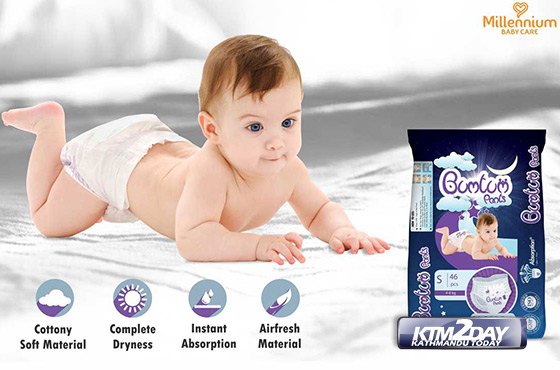 Millennium Baby Care, a pant-style baby diaper manufacturers based in India, has launched its world-class baby care product in Nepal. The company said it has introduced the world-class baby care product and sanitary napkins for the first time at such affordable prices in Nepal in collaboration with Diamond Nepal which has its own manufacturing unit.
"After its successful launch in India and the UAE, now Millenium Baby Care has launched its brand Bumtum, Papimo baby pants diaper and Free Me sanitary napkins in Nepal," reads a press statement issued by the company.
The forte of Millennium Baby Care is baby pull-up pant style diaper which is the latest design in the diaper industry, the company said.
"The main reason for the popularity of these pant-style diapers are its design, comfort and security. The pants come with features of cottony soft material, complete dryness, instant absorption and air-fresh material. It also comes in small size, medium size and large size," the statement further says.
Director of Bumtum pants, Nikita Bhimsaria says, "Bumtum pants is just the perfect pant style diapers for your babies. It is made with soft materials for your baby's comfort and care. Mothers will not have to worry about wet diapers anymore as these diapers are made of cottony soft materials with complete dryness and instant absorption. Apart from these, air-fresh material is a bonus point."
Price List of Bumtum and Free Me
BUMTUM PRICE LIST
Small 46 Pcs = NRs 720
Medium 36 Pcs = NRs 720
Large 34 Pcs = NRs 720
Small 5 Pcs = NRs 83
Medium 5 Pcs = NRs 99
Large 5 Pcs = NRs 107
FREE ME SANITARY NAPKIN PRICE LIST
240 MM 8 Pcs = NRs 52
280 MM 7 Pcs = NRs 64