Buddha Air celebrates 20 years of trusted flying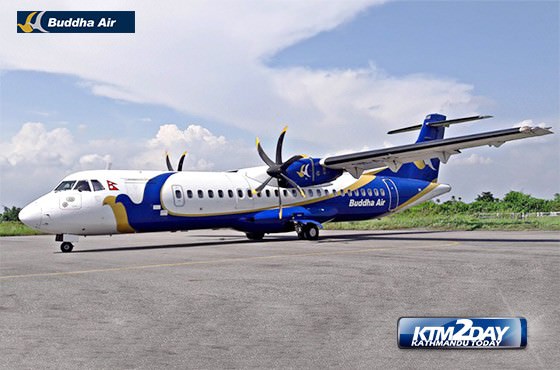 20 years of trusted flying, and it's only getting started
In line with its vision of providing the safest, most reliable and comfortable means of air transport, and with the end goal of delivering more smiles per flight, Buddha Air strives to grow, improve, and reinvent itself every year.
The company recently celebrated its 20 glorious years of trusted flying. But even at a time when it enjoys an almost unrivaled position in the domestic aviation sector, the company already has an eye toward the future.
In an exclusive interview with the Managing Director of Buddha Air, Birendra Bahadur Basnet, revealed how the company has its sights set on the ambitious project of adding more international flights under Buddha Air.
The plans for realizing this dream project are currently underway, and the company is hopeful that it will be able to wrap up all the preliminary preparations by the end of this December.
This would then set in motion the next stage of rigorous negotiations and collaborations with various authorities and parties whose support are crucial for the achievement of this breakthrough objective.
From the aircraft manufacturing company, Airbus, Nepal's Foreign Ministry, to the Civil Aviation Authority of Nepal (CAAN), Buddha Air will engage with utmost dedication with all the parties to bring everyone on board.
Once that happens, the company will launch international flights in 2021.
Depending on how fast the construction of the international airport at Pokhara reaches its completion, Buddha Air will be initiating flights from Pokhara to several cities in India as well as to China.
The company aims to begin with 3 airplanes initially, but this number will increase gradually as per the need and demand of their valued passengers.
Besides expanding its reach in the international skies, Buddha Air's attention is also on the requirements of the domestic flyers. Further considering Nepal's growing market, and exploding potentialities with the formation of new federal states, Buddha Air has plans for domestic expansions as well.
In the east, the company has started flights with its 72 seater aircrafts for Janakpur. Additionally, flights for Rajbiraj will also be arranged as soon as planned construction of an airport in that location reaches its final stage.
Having already begun flights from Pokhara to Bharatpur and Bhairahawa, Buddha Air also has plans of recommencing its flight to Surkhet, which had earlier been canceled due to certain economic constraints.
Now looking at the fact that Surkhet is set to become the capital of Province no. 6, the company believes that the place requires more reliable means of transportation to advance its progress.
"When we are speaking about local flights, we cannot ignore the importance of Pokhara as a tourism-hub, and, as such, a hub for frequent flyers," suggested Basnet.
Currently, Nepal receives 6 lakhs tourists annually, of which 3 lakhs visit Pokhara. But this figure is too small if you consider the fact that Pokhara can serve over 40 lakhs tourists annually.
In this case, Buddha Air's research has predicted that over 25 lakhs tourists will be flying in and out of Pokhara in the next 10 years. And when that happens Buddha Air is already in the capacity to serve over 30% of these tourists in the coming years.
It's been over two decades of leading the aviation in the country by ensuring exceptional flying experience for the passengers, but it looks like Buddha Air is only getting started in its endeavor of conquering the skies.