Int'l airlines owe TIA Rs 2.5 billion for various services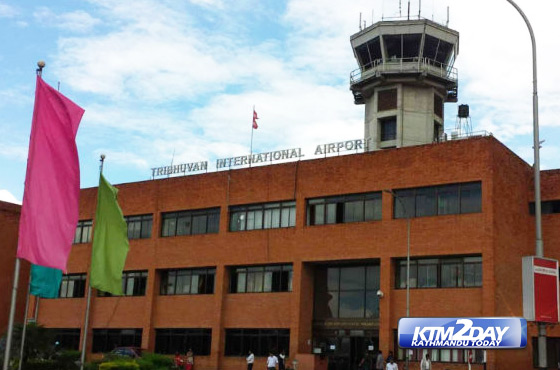 Two dozen international airlines operating in Nepal have yet to pay around Rs 2.5 billion to  Tribhuwan International Airport (TIA) for using various services at Nepal's only international airport.
The airlines have for a long time not paid TIA the service charges that they collect from air passengers and other fees, such as for airport development,  parking, navigation, security and counter-charges.
The international airlines haven't paid the charges even though they  earn around Rs 80 billion a year flying to and from Nepal. Nepal's air travel market has nearly reached the Rs 100 billion mark. In this, the share of the national flag carrier Nepal Airlines Corporation is hardly 10 percent.
The responsibility for this state of affairs has been attributed to TIA's General Manager Devananda Upadhyay.
The amounts due have not been recovered as Upadhyay didn't enforce the regulations, such as the Airport Service Charge Regulations-2067 BS and Financial Administration Regulations-2057.
TIA is yet to recover over Rs 2.473 billion as of July 15, 2017. Documents obtained by Republica show that Malaysian private airline Air Asia alone owes Rs 308.2 million to  TIA. But Nepal Airlines Corporation is the carrier that has the highest amount of arrears to TIA, at Rs 83.6.
"After becoming chief of TIA, Upadhyay hasn't corresponded with the airlines and other companies for payment of the dues," a highly-placed source told Republica. "The due amount was negligible at the time he became general manager. He and officials working at the finance division and revenue section are acting in collusion."
As the general manager and "his team" did not follow up for recovering the due amounts, the Civil Aviation Authority Nepal has formed a high-level probe committee to investigate the matter. The committee, which is headed by CAAN Deputy Director General Birendra Prasad Shrestha, has already started its work.
TIA, likewise, is yet to receive Rs 185.9 million from Indian private airlines Jet Airways and Rs 227.4 million from Indigo Airlines, Rs 114.1 million from Fly Dubai of the United Arab Emirates (UAE), Rs 156.6 from Malaysian government airline Malaysia Airlines, Rs 92.7 million from Air Arabia of UAE, Rs 60.3 million from Thai Airways, Rs 35.4 million from Malaysian private airline Malindo Air and Rs 67 million from Indian government airline Air India.
Likewise,  TIA is yet to receove Rs 44.4 million from Turkish Airlines, Rs 36.5 million from China Eastern Airlines, Rs 57 million Nepal's Himalaya Airlines, Rs 32.8 million from Qatar Airlines, Rs 32 million from Hong Kong's Cathay Dragon Airlines, Rs 20 million from UAE's Etihad Airways, Rs 18.8 million from China's Air China, Rs 41.7 million from Oman Air, around Rs 20 million from Singapore's Silk Air, Rs 16.4 million from China Southern Airlines, Rs 23.1 million from Korean Air, Rs 29.7 million from Nepal's Sourya Airlines and Rs 33.4 million from Simrik Airlines.
TIA is yet to recover due amounts from altogether 98 airline companies.
Apart from the airline companies,  TIA is due  Rs 54.8 million from Universal Supply Agency and Rs 14.8 million from Hotel Soaltee.
"There is suspicion of some financial irregularity as the TIA general manager hasn't shown any interest in collecting the dues," the source said. "He has been repeatedly asked in writing about the matter but he hasn't responded."
TIA regulations entrust the airport chief with responsibility for collecting service charges. The rules also authorize the airport chief to ban flights to and from TIA by airlines or any other company not paying service charges within a period of 60 days. "Therefore, the general manager and other officials concerned must be investigated," the source said.
Upadhyay, who left for the United States a few weeks ago hasn't returned yet. He is under surveillance by police and the Commission for Investigation of Abuse of Authority on suspicion of involvement in an illegal transaction in foreign currency, according to police sources.