Maersk Line eases Nepal's import market with direct rail link
Maersk Line, the global containerized division of the Maersk Group, at a recently concluded trade meeting in Kathmandu, Nepal, announced its intent to push for acceleration in trade in the country. The Nepal import market doubled in the past 5 years and Maersk line is confident of a continued momentum in this direction.
In June 2017, Maersk Line moved the first-ever container shipment from Visakhapatnam to Nepal, via an exclusive block train service aptly named "Kathmandu Express". This service offers a guaranteed fixed transit time from the load port to ICD Birgunj, just over the Nepal border. Maersk Line is the first shipping line to introduce this innovative product. Since its launch, momentum has built up quickly based on customer demand, and the company expects 5-6 block trains moving monthly from Vishakhapatnam to Birgunj ICD.
The Visakhapatnam-Birgung rail link is designed to feed cargo for Maersk's intra-Asia Chennai Express (CHX), which has weekly calls at Viskhapatnam. Set up in conjunction with state-owned rail operator Container Corporation of India (Concor), the one-stop transport solution covers all cargo processes, such as transit formalities and customs clearance in the land of arrival.
Shippers in landlocked Nepal had long been using Kolkata Port for their maritime access, involving considerable delays and heavy costs, and the direct rail link is said to have eased some of those concerns, as the transit time for trade to and from Nepal has been reduced to an average of seven days from 14 days via Kolkata.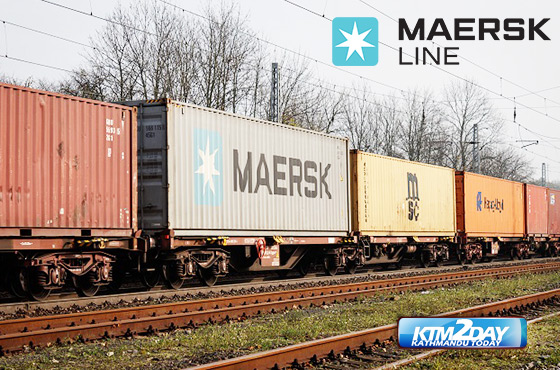 Maersk Line's commitment towards customer centricity is reflected through its dual offerings to Nepal through Kolkata and Vishakhapatnam. Adding a product offering through its own line from Vishakhapatnam to Birgunj, Nepal, to the existing product of Kolkata to Birgunj on merchant haulage is a testament to Maersk Line's allegiance in facilitating ease of doing business.
Maersk Line said it is keen on making greater inroads in Nepal's burgeoning import trade through its supply chain network connecting ports in India.
The company in a trade advisory said Nepal's import market has doubled over the past five years and to meet growing demand, it is looking to expand a dedicated, time-guaranteed train service, dubbed the Kathmandu Express, which it began operating between Visakhapatnam Port, India, and the Birgunj Inland Container Depot, Nepal, in June.