Thai Lion Air to start flights to Kathmandu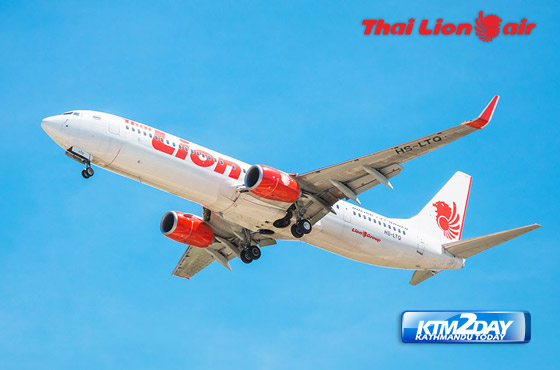 Low-cost carriers (LCC) are increasing their strong foothold in Nepal's market as demand for cheap air travel continues to grow. Two LCCs- Thai Lion Air and Salam Air will soon start flights to Nepal. Entry of these airlines would boost LCCs presence in Nepal's market by one-fourth. Currently, five LCCs, Indigo, Air Arabia, Fly Dubai, Air AsiaX and Malindo Air, operate in Nepal. LCCs entered the Nepal air space in 2006. Air Arabia was the first.
The Tourism Ministry has given Thai Lion Air, a Bangkok-based LCC, operating authorisation. Oman's new LCC Salam Air has also applied for the permit.
Suresh Acharya, joint-secretary at the ministry, said that Thai Lion received operating authorization last Monday. It plans to begin operation from the next month. However, the Civil Aviation Authority of Nepal is yet to approve its flight permission.
It will be the second carrier from Bangkok after Thai Airways and will operate from the Don Mueang International Airport, one of the two international airports in Bangkok. Thai Lion has received permission to operate seven weekly flights, said Acharya.
In 2004, Nepal and Thailand signed a revised Memorandum of Understanding (MoU) on extending air services, permitting up to 10 flights per week with any kind of aircraft, up from seven.
As Thai has been operating seven weekly flights, the remaining three flights are allotted to Thai Lion under the agreement's provision. "Another four weekly flights have been allotted under the temporary operating basis," said Acharya. "We will revise the air service agreement with Thailand soon to increase the operating quota." As per the provision, temporary permits are given for three months only.
Tribhuvan International Airport (TIA) General Manager Raj Kumar Chettri said they have informed the ministry that the new carrier would be granted the airport slot only after 5:30pm. "At this time, the air traffic is thin."
The Sultanate of Oman's new low-cost airline Salam Air has also applied for the operating authorisation. In 2014, Nepal and Oman had revised bilateral air service agreement allowing designated carriers of respective countries to operate up to 28
flights a week.
At present, only Oman Air-the national flag carrier of Oman- has flight services between the two countries. Salam commenced international operations in January 2017.
According to TIA, international air passenger traffic registered double-digit growth in 2017, a 10.74 percent increase over the previous year despite infrastructural hurdles. A record 3.88 million passengers passed through TIA last year.
The passenger traffic through TIA had plunged 8.37 percent to a 13-year low of 3.21 million in 2015, as travellers stayed away due to the earthquake in April. In 2016, passenger traffic swelled 9.12 percent to 3.51 million. According to TIA, 29 airlines including three Nepali carriers made 33,362 flights in 2017, recording a 23 percent rise.
The country's only international airport deals with severe congestion over the past few years with increasing number of Nepali migrant workers, students and tourists travelling in and out of the country. Its two decades old infrastructure has not seen upgrades.