Tara Air adds a new Viking DHC6-400 Twin Otter aircraft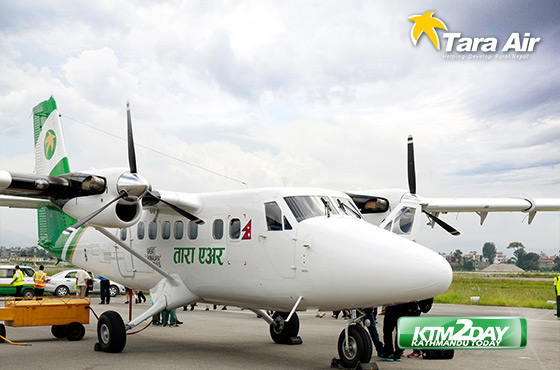 Tara Air has added a new Viking DHC6-400 Twin Otter aircraft to its fleet. The Viking 400 Twin Otter aircraft arrived on Friday at Kathmandu's airport after its ferry flight from Seychelles via the Maldives and India.
The crew members on board were Captain Prabhakar Ghimire and Captain Pawan Singh Nagarkoti and for technical assistance Jagat Lama from engineering was present along till the arrival.
The Viking 400s are the latest series of Twin Otters that can operate out of the most challenging airports in the world such as Lukla, Dolpo or Rara with ease, the airline said.
Tara Air has taken delivery of the aircraft from Air Seychelles. After detailed inspections and a test flight, the Civil Aviation Authority of Nepal has issued certificate of airworthiness and allocated Nepali registration number 9N-ALO.
This latest addition to Tara Air's fleet of STOL aircraft will enable the airlines to service remote airports in the mountainous regions of Nepal, where road travel is either very arduous or impossible. It will also help facilitate Nepal's target of 2 million tourists in the year 2020, the airline said.