Thai Lion Air begins flights to KTM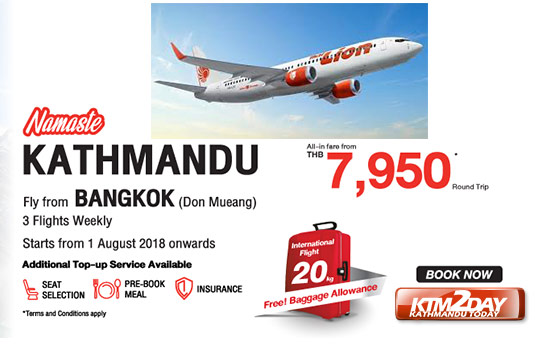 Low-cost carrier (LCC) Thai Lion Air made its maiden flight on Bangkok-Kathmandu sector on Wednesday, becoming the second carrier from the land of white elephants to connect Nepal.
The carrier will operate three weekly flights-Mondays, Wednesdays and Fridays-from the Don Mueang International Airport, one of the two international airports in Bangkok. The airline has offered special airfare of Rs26,250 (7,950 Baht) for a round trip with free baggage allowance of 20 kg.
The carrier said that the launch of the flight would boost tourism between the two countries.
In 2004, Nepal and Thailand signed a revised Memorandum of Understanding (MoU) on extending air services, permitting up to 10 flights per week with any kind of aircraft, up from seven. As Thai Airways has been operating seven weekly flights, the remaining three flights are allotted to Thai Lion under the agreement's provision. Thai Lion is one of LCCs in Lion Group founded in 2013, with 12 domestic flights, 2 cross region flights and more than 20 international flights.
The airline has 32 aircraft in its fleet.