Mero Surakshya brings insurance cover on new and old mobile handsets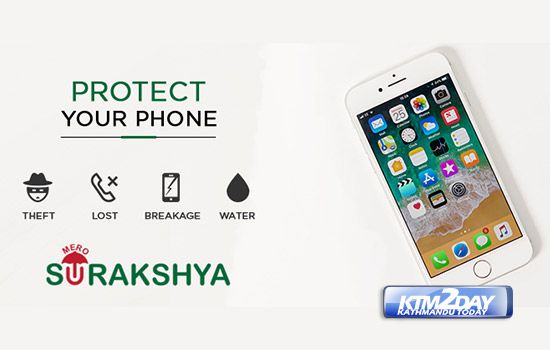 If your smartphone has become damaged,dysfunctional ,broken or even lost a company can come to your rescue. The company, Mero Surakshya, has started its service in Nepal which provides mobile phone insurance.
Smartphones are at the center of our lives. And given all the data stored inside — everything from our contacts and appointments to photos and songs — if anything happens to your phone, it can really disrupt your life. That includes those times when your smartphone gets lost, stolen or damaged.
Some new smartphones now cost up to almost $1,000.
There's a good chance that you have (or know someone who has) dropped and broken a phone. In those cases, the manufacturer might say that "butter fingers" and accidental drops aren't covered under the standard warranty. Often, the "standard warranty" is included when you buy your new phone or other electronic device, but only covers manufacturer defects (meaning damages they, not you, are responsible for) or 6 month warranty on battery as in case of smartphones in Nepal.
That's where a phone insurance plan (also called electronic device insurance) protects you. It covers cracked screens, liquid damage and theft .
Mero Surakshya, apart from ususal insurance on physical handset also provides valuable data and files protection through their data backup service. The customer, through the apps, has to inform the Company about the data of the mobile set he/she wants to keep safe and the Company will keep backups periodically.
The company offers Mero Surakshya service on both new and old handsets. Interested customers need to register at the company and pay a onetime insurance fee per year for their handsets which comes to a total of 5% amount of the retail price.
Currently, there are over 30.41 million mobile sets in use in Nepal, according to Mero Surakshya. Around 6 million of mobile set enter Nepal annually through customs officially. Equal number of mobile phone sets are estimated to enter the country without paying the taxes.
The company promises to offer new handsets to customers who have lost or broken their handsets if claimed within 7 days .The company has already signed agreement with concerned mobile companies for the repair of the broken mobile sets and to buy new one.
The software company has started its service in Kathmandu from last week. Chief Executive Officer of the Company, Prem Sunwar, said, "Some 8,000 people have downloaded our apps within a week."
One can download 'Mero Surakshya' apps from play store of Google for Android mobile and from 'Apps Store' for iphone users.
Mero Surakshya has its main office in Putalisadak but anyone could avail the service through online, according to him. In a query about the breaching of privacy while storing the data of others mobile phone, Director of Mero Surakshya, Bishwas Adhikari replied,"We don't store chats of customers. We store the datas as per the preference set by the customers."
The service provider, which is availing service to the mobile phone sets, is eyeing to extend their services to laptop, tab and computer among others next year, said CEO Sunuwar, adding that it could be extended to all electronics device.
Download app from Google PlayStore : Link