Hyundai's longest range electric car "Kona Electric" launched in Nepal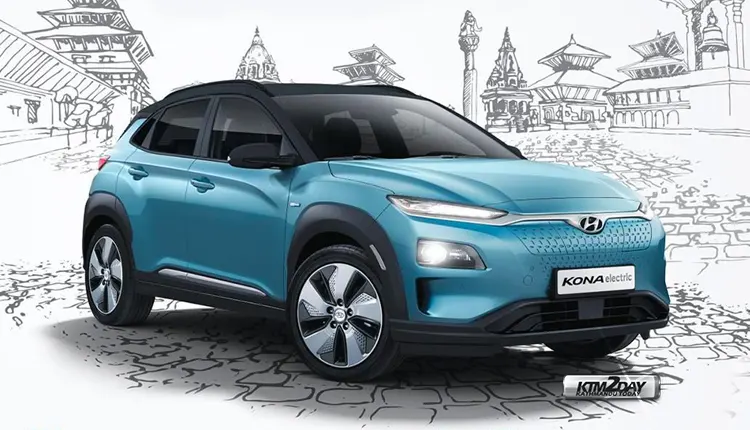 Last year Hyundai showcased it's electric version of Ioniq EV  during the Nada Auto Show 2018, and now the company is readying to launch its next Kona Electric in the Nepali market soon.
Electrification is a big topic these days and Hyundai wants to make sure they're right ahead in the EV market. The small SUV is a massive growth market in automotive as seen in global markets, as every companies are targeting this segment to cash in on the growing demand of compact to mid-sized SUV.
While Nissan's Leaf has already swept the sales in the global markets in the compact hatchback segment , Hyundai wants to do the same in the compact SUV segment.
The Kona Electric or Kona EV, a fully electric vehicle, was first launched in South Korea on the first half of 2018 and rolled out gradually worldwide afterwards.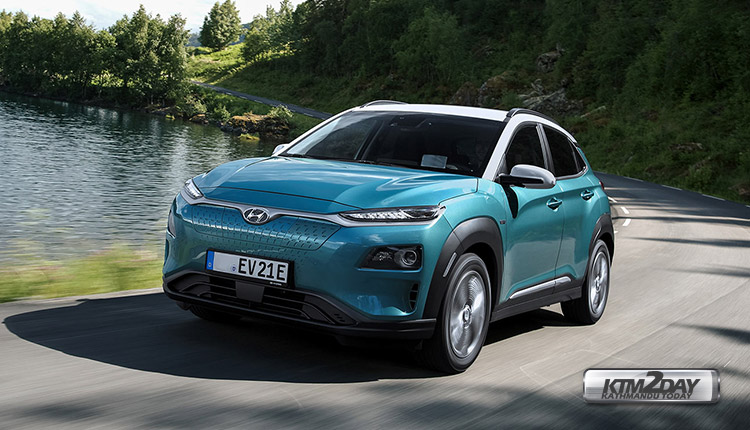 Both the electric and non-electric versions were announced as the winners of the 2019 North American Utility Vehicle of the Year, the first for a subcompact crossover SUV in its award history.
A battery electric version started sales in Korea and Europe in 2018, with a market debut in the United States in 2019. According to Hyundai officials, the base version with a 39.2 kWh battery pack delivers an all electric range of 186 miles (300 km). The version with a 64 kWh battery pack delivers an EPA rated range of 258 miles (415 km).
The Kona will even outlast electric cars that cost far more. The Kona's 258 miles(415 km) beat out the range offered by the Jaguar I-Pace (234 miles=376km), the base level Tesla Model X (237 miles=381km), and will likely edge the Audi E-Tron (which is around 248 miles=400km).
The Hyundai Kona body is made from 51% advanced high strength steel with 'hot stamping' and adhesives for added rigidity. Standard safety equipment includes six airbags, lane keeping assist and a driver attention monitor. Other features include automatic emergency braking with pedestrian detection, blind spot detection and a rear cross traffic alert.
A graph showing the global export sales of the Hyundai Kona EV has come to light on Facebook, showing that the percentage of models being delivered by the company is ramping up.
The all-electric version of the Kona has been very popular, and the 64kWh, 400km range model is due to arrive in early 2019, the South Korean automaker has previously said.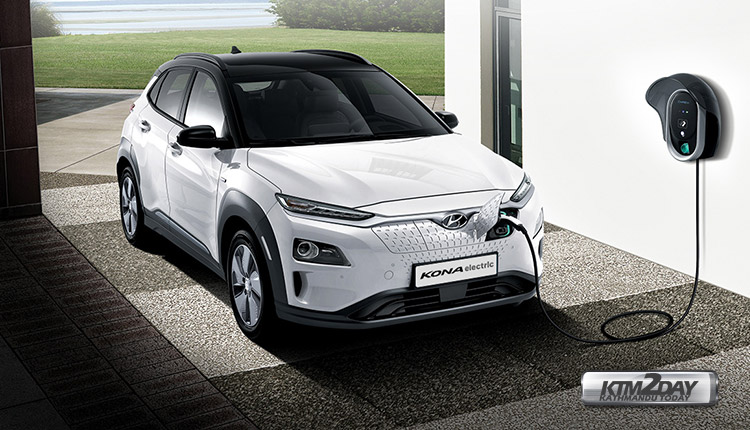 The Kona Electric model launched in Nepali market comes with a base model of  39kWh with 135hp and official range of 290 kilometers.
Kona Electric has three trim levels – SE, Premium and Premium SE.
The Kona Electric's standard infotainment system is easy to use and comes with Android Auto and Apple CarPlay smartphone mirroring – so you can seamlessly use the sat-nav and music apps on your smartphone on the Kona's screen, as well as viewing a large range of EV-centric power and range info.
Space inside the Hyundai Kona Electric is a mixed bag. On the one hand front passengers benefit from lots of seat adjustment and the driver a wide range of steering wheel adjustment to ensure a comfortable driving position, while space around the seats in the front is impressive.
However, a couple more adults in the back seats won't be so comfortable as, even if head room is decent, leg room is at more of a premium. In short, both a Leaf and e-Golf will transport rear passengers in more comfort.
And the Kona's transition to electric power hurts boot space too, so the regular Kona's already-disappointing 361 litres of space (next to other small SUV efforts) drops to an even tighter 332 litres.
SE models come with plenty of standard equipment, including 17-inch alloy wheels, automatic headlights, air-con, cruise control and rear parking sensors with rear camera. Stepping up to Premium gets you automatic wipers, rear privacy glass, LED rear lights, front and rear parking sensors and an upgraded Krell sound system, while Premium SE models get leather seats all-round with electric front seats, a head-up display, LED headlights and a heated steering wheel.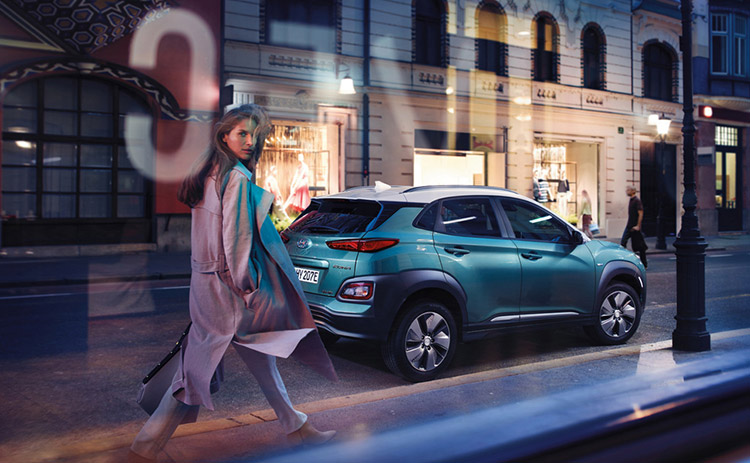 Every Hyundai Kona Electric gets automatic emergency braking with pedestrian recognition, lane keep assist and tyre pressure monitoring, but Premium and Premium SE models get blind spot detection, rear cross traffic alert and lane follow assist to that list.
Like all EVs, the Hyundai Kona Electric is great to drive in town. Performance is punchy, instant and silent, which means darting through traffic is easily done. In fact, even the lesser 39kWh model can crack 0-100 kmph in 9.7 seconds, while the more powerful 64kWh car races to 100 kmph in a warm hatch-bothering 7.6 seconds. That's quicker than both a Nissan leaf and Volkswagen e-Golf, but slower than a BMW i3.
You're able to charge a Hyundai Kona Electric to 80% in just 54 minutes using a 100kW charger. But the commonly available 7kW charger, like the one most people have at home takes just over six hours to 'fill' the 39kWh model.
The increase in sales overseas is no doubt a result of the expansion of the Kona markets across North America and Europe.
Hyundai Kona Electric Price in Nepal
NRs. 56,96,000 (39.2 kWh)
NRs. 71,96,000 (64 kWh)
Hyundai Kona Electric Specification – 39.2kWh
Model:
Hyundai KONA Electric SE (Base Trim)
Horsepower: 100 kW
Max Power: 135BHP
Max Torque: 395Nm

Battery:
39 kWh 327 V lithium polymer
Range: 289 km battery-only
Seating Capacity: 5
Tires: 215/55R17 Alloys
Braking: 305×25 Ventilated Disc (Front), 300×10 Solid Disc (Rear)

Cargo volume:
332 L, 1,143 L with seat area
Dimensions:
4,180 mm L x 1,800 mm W x 1,570 mm H