Motorcycles sales surge as festive season nears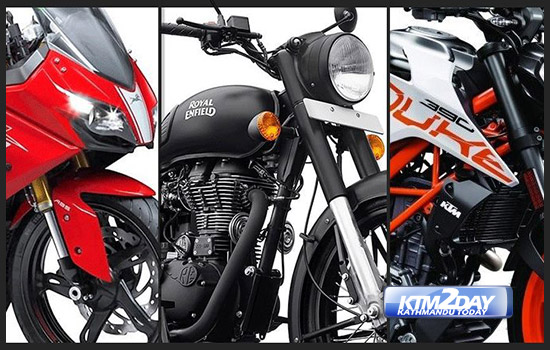 Two-wheelers continue to be a popular mode of transportation for people in Nepal with import figures surging in the fiscal year 2017-18.
According to the vehicle registration statistics of Department of Transport Management for the fiscal year 2017-18, 104,444 motorcycles were registered in the Bagmati zone compared to 94,751 registered in the previous fiscal year 2016-17.
Similarly, Sagarmatha, Janakpur and Bheri zones were the other top markets for two- wheelers after Bagmati zone. Sagarmatha zone registered 10,471 motorcycles in fiscal year 2017-18 while Janakpur registered 16,589 and Bheri 10,468.
The surge in imports of two-wheelers is mainly due to two factors, poor public transportation and easy finance options. Commuters travelling in the Kathmandu Valley are choosing to spend their hard-earned money on buying a two-wheeler to avoid the chaotic and sometimes dangerous public transport vehicles that ply the roads. Combined with more companies offering easy finance options to buy a motorcycle, the demand for two wheelers is in line with the surge in imports. Motorcycle companies see this as an opportunity and continue to launch new models.
According to Ramesh Danekhu, senior media officer at Morang Auto Works, authorised distributor of Yamaha bikes in Nepal, two wheelers are far more efficient and convenient especially on the roads of Kathmandu for daily commutes. Another reason for the spike in number of motorcycle sales is the improving living standard in the country.
He revealed that in the last fiscal year, Yamaha's best selling model was the FZS-Fi while the FZ 25 also posted strong numbers in the premium bike segments. Similarly, the company will be launching a new motorcycle—the R15 V3 racing model, which is expected to be a big success with youths. The company plans to launch the bike before Dashain.
| | 2016-17 | 2017-18 |
| --- | --- | --- |
| Bagmati | 94,751 | 104,444 |
| Sagarmatha | | 10,471 |
| Janakpur | | 16,589 |
| Bheri | | 10,468 |
Two wheelers have become the primary mode for basic transportation, said Vivek Dugar vice-chairman of MV Dugar, an authorised distributor of Royal Enfield bikes in Nepal. Due to the weak public transportation system in the country, motorcycle sales have been increasing outside the Valley as well. Around 4,500 units of Royal Enfield bikes were sold last year.
Motorcycle companies are even engineering models to suit the roads of Nepal which can vary dramatically. Features like high ground clearance, good fuel mileage and easy maintenance are some features that people look for in a motorcycle.
And as Nepal nears the festival season, motorcycle dealers in the country are set to introduce new models to record strong sales.