Tourist arrivals to Nepal soared to 73.5 percent in July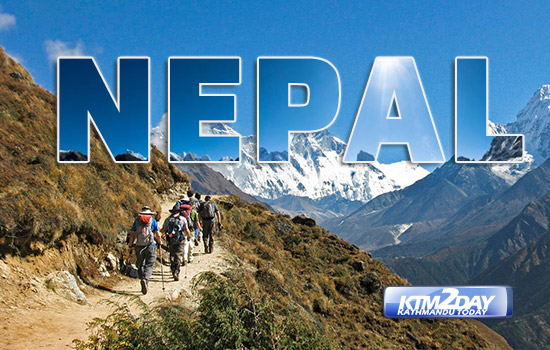 Tourist arrivals to Nepal jumped 73.5 percent in the month of July, largely due to a sharp increase in the number of travellers from countries like India, China, the US and the UK, according to statistics released by Nepal Tourism Board (NTB).
The statistics show that Nepal received a whopping 73,285 international tourists in July—a time of the year that is considered to be an off-season for tourists due to the monsoons. The growth in the numbers has been particularly attributed to Indian pilgrims visiting Kailash Mansarovar in Tibet, via Nepal.
The statistics show that 18,385 Indian tourists visited Nepal via air transport, which is up 80.4 percent compared to the same period last year.
After India, Nepal received the highest number of visitors from China. The Chinese tourist numbers have more than doubled to 13,123 in the month of July. This is a 125.4 percent growth in comparison to the arrivals in the same month last year.
With July's figures, the number of foreign tourists visiting Nepal in the first seven months (January–July) of 2018 reached 593,299, which is an increase of 18 percent as compared to the same period last year.
Similarly, overall arrivals from SAARC countries registered a growth of 66 percent, in comparison to the same month last year. However, arrivals from Bangladesh declined by nine percent.
Arrivals from Asia (countries other than SAARC) have also recorded a robust growth of 86.2 percent. Likewise, visitors from Japan and South Korea to Nepal also increased by 36 percent and 21.9 percent respectively.
An overall increase of 54.1 percent in July has been recorded from European source markets. Arrivals from the UK, Germany and Spain increased by 68.9 percent, 53.9 percent and 41.2 percent respectively. However, arrivals from Austria declined by 72.6 percent. Australia and New Zealand have also witnessed a tremendous growth of 113.9 percent and 75.2 percent in July as compared to the figures of 2017. The number of visitors from the US and Canada have also grown by 79.6 percent and 73.3 percent respectively.
The strong growth in the number of international arrivals to Nepal can be attributed to many reasons. One of the key reasons is the promotional programmes that have been organised by NTB to target travellers from countries like India and China. "Destination promotion, travel marts, sales missions, business to business (B2B) and business to consumers are the major programmes that have been continuously organised in major source markets," the NTB said in a press statement.
Propelled by a steady economic growth and a burgeoning middle-class population, India and China have emerged as key players in the global tourism arena. An unprecedented growth in the outbound tourism sector of these two countries has been observed.
"In addition to neighbouring markets, the Asia Pacific region has seen rapid economic development in recent times. The positive growth in visitor arrivals from all major markets is highly encouraging and undoubtedly present significant opportunities to the travel and trade sector and to the entire country," said Deepak Raj Joshi, chief executive officer of NTB. "We continue to work with the utmost conviction that tourism is fundamental to steering us towards a brighter future, where tourism contributes to a more responsible, sustainable and inclusive economy that benefits all levels of our society."
Top five source markets (July's arrivals)
Country
2017
2018
India
10,193
18,385
China
5,823
13,123
USA
3874
6,957
UK
3,093
5,224
South Korea
1,981
2,415
Source:Nepal Tourism Board