eSewapasal online store launched officially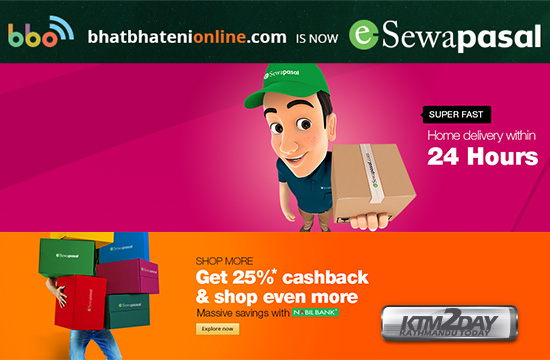 F1Soft International, a leading software company of Nepal, has officially launched eSewaPasal.com by rebranding bhatbhatenionline.com, which was in operation since the last eight years. F1Soft International, which is also the owner of online payment service provider eSewa, had announced the acquisition of bhatbhatenionline.com back in June this year.
"I am confident that eSewaPasal will set an important milestone in the online shopping space," said Manish Shrestha, CEO of eSewaPasal, during the launch. He emphasized on the future of online shopping and added, "We are determined to provide our customers with the best service at the lowest price."
During the launch, the company has rolled out multiple offers for its customers. According to the company, customers will get up to 5 percent cashback while paying through eSewa. Nabil Bank's Visa card holders can avail 25 percent cash back on all orders and 10 percent cash back for payments done by card on the time of delivery.
Issuing a statement on Sunday, September 2, eSewapasal.com said it also plans to include an EMI facility for the customers to make online shopping convenient in the coming days.
During the festive season, the company plans to roll out a lucky draw scheme for its customers.
Moreover, eSewaPasal announced that it will deliver goods with no delivery charge within 24 hours for the orders in Kathmandu Valley. Currently, the company offers multiple payment options like eSewa, credit/debit cards, cash/card on delivery.