Tata Tigor EV showcased at NADA Auto Show 2018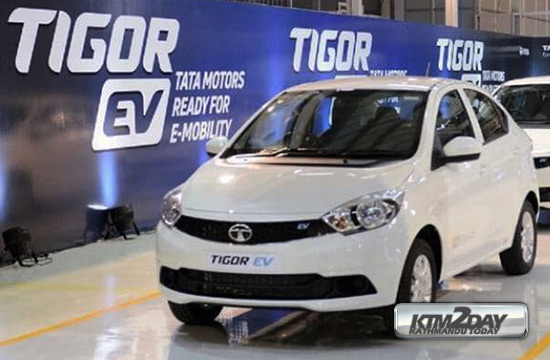 At the 13th edition of the Nepal Automobile Dealers Association (NADA) Auto Show 2018, automobile dealers are excited to showcase their best EVs to attract more consumers.
Sipradi Traders, the authorised distributor of Tata Motors in Nepal, is all set to showcase their Tata Tigor.
The TIGOR EV is a completely electric, zero emission 'StyleBack' sedan that showcases a stunning, break-free and revolutionary design. With its futuristic design, sensuous proportions and versatile platform, the car is ideally suited to transform into electric vehicles.
Derived from the TIGOR StyleBack sedan, TIGOR EV is a reflection of Tata Motors' desire to innovate constantly and to be at the forefront of market changes with the correct technology for India. It is set to build on Tata Motors' current passenger vehicle portfolio.
Taking a step further towards the future of mobility, the TIGOR EV signals Tata Motors' shift from the use of an internal combustion engine (ICE). The TIGOR EV will have a single speed, automatic transmission, which will allow customers to seamlessly enjoy the driving experience, maximize efficiency and improve acceleration.
The TIGOR EV enjoys high levels of performance as it is powered by a 3 phase AC induction motor that provides a maximum of 30 kW @ 4500
rpm and a wide, flat torque curve from very low rpm. The motor and the battery combination offers high energy density, low energy consumption as well as fast charging capability.
The new Tata Tigor Electric car will be delivered in three trim variants – Base, Premium and High. For now, it will be available only in the 'Pearlescent White' colour with blue decals. All the three trims will come with FATC (Fully Automatic AC).
Tata Tigor Electric Specifications:
| | |
| --- | --- |
| Specs | Tigor Electric Vehicle |
| Engine | Electric |
| Max. Power | 29.8 kW @ 55 kmph |
| Max. 30 Mins Power | 12 kW @ 45 kmph |
| Transmission | Single-speed Automatic |
| Kerb Weight | 1516 KGs |
While the regular Tigor is on sale with 1.2-litre Petrol and 1.05-litre Diesel engines, the Tigor EV gets a 29.8 kW (39.95 hp) electric motor. This means that the Tata Tigor Electric car is less powerful than the Tiago EV, which offers a peak power of 85 kW (113.94 hp). The motor comes mated to a single speed automatic transmission.
The rechargeable batteries will have a range of 100 KMs. While not much, but it's still enough for usage in an urban environment.
In terms of dimensions, there is no change. Hence, the new EV is 3,992 mm long, 1,677 mm wide and 1,537 mm tall. It has a 2,450 mm wheelbase. These figures are the same as those of the regular Tata Tigor. The Tigor electric car will become a direct rival to the Mahindra eVerito, which offers slightly more power (30.5 kW or 41 hp). However, let's not forget that the Tigor is almost 200 KGs lighter.
The exterior design of the electric Tigor is identical to the standard version of the notchback. It continues to come with the same compact dimensions. And also, it classic stout backend. The cabin of this electric car is also identical to the standard one.
The company claims that this EV can be fully recharged in 6 hours with a normal charger and in 1.5 hours with a fast charger.
Although not available for booking , the Tigor EV is estimated to cost between NRs. 30-35 Lakhs.