Offers Galore at Nada Auto Show 2018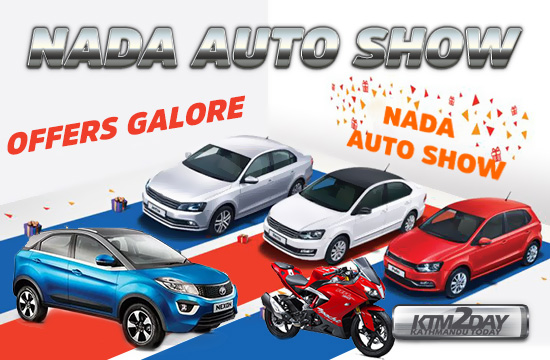 Each year, customers wait for the NADA auto show to purchase vehicles as companies showcase new products and offer lucrative discounts and schemes to woo prospective buyers.
Advertising Association of Nepal, Former Vice President, Ujaya Shakya feels that availability of offers and schemes give customers a sense of satisfaction and value for their money.
Shakya added that a number of consumers wait for schemes in the automobile sector that usually begin before Dashain. And with NADA Auto show providing a platform for both buyers and sellers, expectations rise during the event."This has been the market trend for a long time now," said Shakya.
Even the advertising industry is reaping the benefits of seeing an aggressive push by automobile companies. "The automobile sector is a major source of income for Nepal's advertising industry," said Pankaj Pradhan, executive director at Prismark Marketing.
Automobile companies are offering attractive schemes and discounts to entice customers while customers save up all year for the event to spend their hard earned money.
According to Rupesh Sharma Bhatta, assistant general manager at Laxmi Intercontinental, customers are mentally prepared to buy an automobile, especially during the festive season. NADA Auto Show which is held a month before the Dashain festival, is when sales take off.
According to him, the event compels customers to make the decision to purchase an automobile.
Automobile sales generally increase by 30 to 40 percent from September to December in comparison to rest of the year, said Bhatta.
Sensing the buzz, Laxmi Intercontinental, the authorised distributor of Hyundai Automobiles in Nepal has launched its festive offer starting first week of September. Under the offer, customers will get attractive cash discount and free insurance for a year. The scheme also includes additional cash discount up to Rs100,000 through a scratch card, 10 grams of gold each to 100 lucky buyers and an opportunity to win a Hyundai i20 Active and Hyundai Creta as a bumper prize through the lucky draw. Automobile showrooms are scattered around the Kathmandu Valley and visiting different showrooms can be time-consuming and tiring, said Bibek Bahadur Balami, manager-sales and marketing at United Traders Syndicates.
And this according to him, is a reason why the NADA Auto Show is a perfect place for those looking to buy a new vehicle.
The annual extravaganza showcases vehicles from almost all the major automobile dealers in the country.
"The purchasing power of a customer increases during festival time. People, in fact, save money to buy goods during the festive season," Balami added. Japanese auto-giant Toyota typically witnesses a growth in sales by 20 to 30 percent during the festival season. Toyota will be launching its festival offer at NADA Auto Show.
Similarly, Ramesh Danekhu, assistant manager-corporate and marketing at MAW Enterprises, the sole authorised distributor of Yamaha two-wheelers in the country said that the company witnesses up to 70 percent spike in sales on occasions like the Nepali New Year, Dashain and Tihar.
"NADA auto show helps customers compare brands and products under one roof," he said, adding that the auto show has become a one stop solution for people willing to buy vehicles with the presence of financial services, accessories, and spare parts among others.
MAW has launched 'Vijaya Yatra' offer targeting the Dashain and Tihar festival. With every purchase of a Yamaha motorcycle, customers will get a chance to win a discount up to Rs 100,000 under the offer.
Similarly, one lucky customer will also get a chance to win a brand new Yamaha R3 through a weekly lucky draw. The weekly lucky draw will be broadcast live on television and Yamaha Nepal's Facebook page.
As part of its festive offer, buyers of Yamaha motorcycles and scooters will get a minimum of Rs 7,000 cash discount and up to Rs100,000 discount via scratch card.
Furthermore, the company will be offering a surprise gift with every test ride of Yamaha motorcycles and scooters. Yamaha has also announced a 20 percent down payment offer while financing Yamaha scooters.
Shakya said, "Though discounts and freebies play a major role in the consumer mindset, it also needs to be supported by the brand promises for which they will have to also plan long-term thematic campaigns well in advance along with tactical scheme approach."
Hansraj Hulaschand, the official distributor of Bajaj motorbikes in Nepal, has also announced the 'Pocket Full' campaign for its customers during the festive seasons of Dashain and Tihar. Bajaj customers get a chance to win a pocket full of cash with purchase of any Bajaj motorcycle under the campaign. Customers are given a scratch card, which can provide up to Rs100,000 discount while purchasing a new bike.
The company has also announced a weekly lucky draw for the buyers. The weekly 'Pocket Full Programme' will also be broadcast on television every week. The winner of the lucky draw will be given a time limit during which the customer will have to put as many cash coupons as possible inside the pockets. The company said that cash equivalent to the coupons that the winner successfully keeps in their pockets will be awarded.
Similarly, the company has also launched Dashain, Tihar and Chaat campaign on Bajaj three-wheeler vehicles. Customers will get 32" Himstar LED TV TV set when buying a Bajaj three-wheeler.
Likewise, Jagadamba Motors, the authorised dealers of TVS bikes in Nepal has announced 'TVS Road of 10 crore' offer targeting Dashain and Tihar. With each TVS bike purchased, customers will get a cash prize of Rs7,000 every day and Rs10,000 to 10 lucky winners. A lucky draw will also award Rs100,000 to one winner each day.
Similarly, TVS has been offering sure shot prizes on the purchase of TVS King GS Delux three-wheelers. The sure shot prize includes 32-inch Konka TV, 210-litre Konka refrigerator and attractive cash discount.
CG Motocorp will be unveiling their new schemes on its four-wheelers on the starting day of NADA Auto Show 2018, said the company.
VG Automobiles, the authorised distributors for Suzuki Motor Corporation has launched 'Suzuki Sarara Pura Vayo Japan Jani Rahar' schemes for its bikes and scooters. Under the offer, the company will be offering sure shot cash prizes to every customer and a trip to Japan for 10 lucky Suzuki customers as a bumper prize. The company is offering sure shot cash prizes of Rs8,000 and Rs10,000 for motorcycles and scooters respectively.
Pooja International Nepal, the authorised distributor of Volkswagen is offering the newly launched Polo 1.0 at a promotional price of Rs2.25 million and cash discounts of up to Rs800,000 on other vehicles.