Hotel Soaltee Crowne Plaza bags Best Managed Company award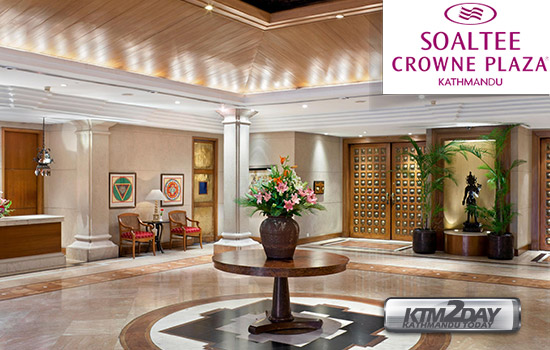 Hotel Soaltee Crowne Plaza has bagged the award of the Best Managed Company during this year's NewBiz Business Conclave and Award 2018 held on the hotel premises on Friday, September 21. This is the fifth edition of the business award, which New Business Age (NBA) Pvt Ltd has been organising since 2013.
During the awards ceremony, NBA handed over a total of 23 awards in ten different categories. Sipradi Trading had won the award of the Best Managed Company during the last edition of the award.
Also Read – Public Transportation fares go up by 10%
Meanwhile, Sakha Group's founder, Ganesh Bhakta Sakha, has been conferred with the NewBiz Lifetime Achievement Award. Last year, Panchakanya Group's founder Prem Bahadur Shrestha had received the same award.
Separate juries were formed to evaluate the works of business organisations from across the country and standout individuals to award them.
Addressing the awards ceremony, Chairman and Editor-in-Chief of New Business Age Madan Lamsal said that the programme was organised with the motive of encouraging commercial sector of the country as well as for its promotion and development. He also said that the awards ceremony will get continuity in the coming years.
Lamsal expressed his belief that this kind of awards ceremony would motivate the entrepreneurs to provide better service and make them more accountable. He further said new businesses are emerging in the country but the concerned authorities have not given proper attention in creating a favourable environment for the growth of this sector.
Winners of the NewBiz Business Conclave and Award 2018
Best Managed Company
Hotel Soaltee Corwne Plaza
Best Managed Commercial Bank
Nabil Bank
First Runner-up
Everest Bank
Second Runner-up
Nepal Investment Bank