India agrees to extend Amlekhgunj-Motihari petroleum pipeline to Chitwan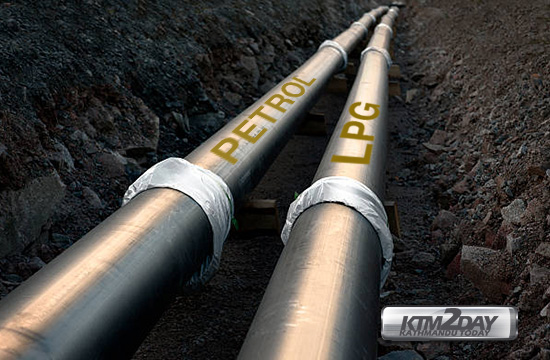 India has agreed in principle to extend the Amlekhgunj-Motihari petroleum pipeline to Chitwan. Similarly, the southern neighbour has also expressed its consent on building an additional pipeline system to import liquefied petroleum gas (LPG) along with allowing movement of 53 Nepali LPG bullets to Indian Oil Corporation (IOC) terminals in India.
According to the Ministry of Industry, Commerce and Supplies, India has agreed to the aforementioned issues during bilateral talks with Indian Federal Minister for Petroleum and Natural Gas Dharmendra Pradhan, who is in Nepal for a two-day visit. Pradhan is expected to visit the pipeline construction site in Simara, on Saturday. He is also expected to visit proposed LPG storage plant sites in Mahendranagar of Dhanusha.
Speaking with the media on Friday, Commerce Minister Matrika Prasad Yadav said India was positive in extending the scope of the petroleum pipeline project. Nepal is mulling Indian support to stretch the pipeline to Lothar, Chitwan from the proposed Amlekhgunj.
According to Nepal Oil Corporation (NOC), the distance from Amlekhgunj to the newly proposed location is 63 km. NOC owns the land for the proposed location in Chitwan.
Work on the pipeline started last March and it is scheduled to be completed by June 2019. However, the project is facing a number of obstacles including the dillydallying by government agencies along with the delay in evacuating land at numerous locations that falls within the pipeline project's scope.
This means that the project is likely to miss its completion deadline. According to the Ministry, NOC and IOC officials held a discussion over the project's progress during the last two day meet. The two countries were supposed to hold the first meeting of Nepal-India Joint Working Group on Petroleum and Gas on Thursday.
The joint-secretary level meeting was cancelled at the last moment after the Indian side informed that the head of the Indian delegation could not take part in the meeting because of some administrative reason.
In a new development, Indian Minister Pradhan held talks with Nepali Commerce Minister Yadav on Friday.
Yadav said the government has already asked NOC to carry out the feasibility study on stretching the pipeline structure to the new location. According to him, India has also expressed its consent on inception of the LPG pipeline project. Yadav said the southern neighbour has also agreed to allow Nepal gas bullets to transport cooking gas from IOC's terminals in India.
This decision is expected to bring cheer to Nepali gas bottlers, who have been seeking India's permission to import cooking gas from IOC depot for ages.
After NOC allowed Nepali LPG importers to buy gas bullets two years ago, India has been reluctant to issue explosive licence to Nepali gas bullets. According to the Nepal LP Gas Industry Association, Nepali entrepreneurs have invested Rs4.24 billion to acquire 53 gas bullets.