DJI Drones now available in Nepal through IMS Group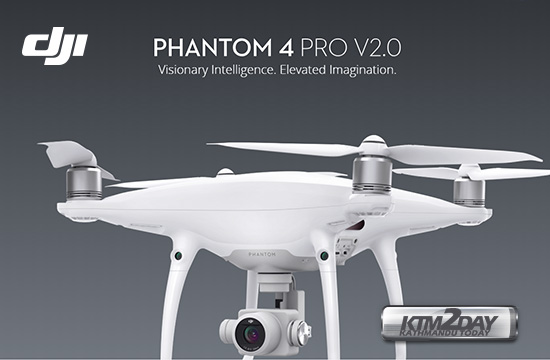 IMS Group , the authorized distributor of Samsung Mobiles has now acquired the dealership of DJI Drones for Nepal.
The company has launched 7 models of DJI Drones in the Nepali market. IMS has initially launched DJI Tello Global, DJI Phantom 4 Pro v2.0, DJI Tello Boost Combo, DJI Mavic Air, DJI Spark Fly More Combo Red, DJI Mavic 2 Zoom and DJI Spark models through a online store.
DJI is the world's leader in commercial and civilian drone industry, accounting for over 70% of the drone market.
Dà-Jiāng Innovations (known as DJI) is a Chinese technology company headquartered in Shenzhen, Guangdong with manufacturing facilities throughout the world. It is known as a manufacturer of unmanned aerial vehicles (UAV), commonly known as drones, for aerial photography and videography. DJI also design and manufacture camera gimbals, flight platforms, cameras, propulsion systems, camera stabilizers, and flight control systems.
These drones are available for purchase from Smartdoko.com.
DJI DRONES PRICE IN NEPAL
DJI Tello Global
Little drone for kids and adults that's a blast to fly and helps users learn about drones with coding education.

VR headset compatibility,fly with a breathtaking first-person view.

Tello has two antennas that make video transmission extra stable and a high-capacity battery that offers impressively long flight times.

Start flying by simply tossing Tello into the air.Slide on screen to perform 8D flips cool aerial stunts.

5MP Photos, 2592×1936 pixels, FOV – 82.6°, EIS, JPG & MP4

Equipped with a high-quality image processor, Tello shoots incredible photos and videos. Even if you don't know how to fly, you can record pro-level videos with EZ Shots and share them on social media from your smartphone.

NRs. 15,670
DJI Phantom 4 PRO V 2.0
The new Phantom 4 Pro/Pro+ V2.0 features an OcuSync HD transmission system, which supports automatic dual-frequency band switching and connects to DJI Goggles RE wirelessly. Like the Phantom 4 Pro+ Remote, the Pro+ V2.0 remote control Includes an Ultra Bright Touch Screen Display. Your screen is powered directly through the remote battery. you only need to charge the remote. No need cable plugging either

Like the Phantom 4 Pro and Advanced, the Phantom 4 Pro/Pro+ V2.0 is equipped with a 20 Megapixels Camera with HUGE 1″ Sensor and MECHANICAL Shutter. FYI, the 1″ sensor is over 4 times bigger than the 1/2.3″ sensor in the latest Gopro Hero 5 which is already amazing. Think about how great the video will be for the Phantom 4 Pro/Pro+ V2.0. Also the Camera is 20 Megapixels compared to 12 Megapixels of the Gopro Hero 5.

Like the Phantom 4 Pro, its Flight Autonomy system includes dual rear vision sensors and infrared sensing systems for a total of 5 directions of obstacle sensing and 4 directions of obstacle avoidance.

 Like the Phantom 4 Pro, its Mechanical Shutter eliminating rolling shutter distortion which can occur when taking images of fast moving subjects. Up to 4K 60FPS Video Recording! YES 4K 60FPS, 4K slow motion is at your finger tips!

NRs 2,49,370
DJI Tello Boost Combo
Includes: Tello Aircraft + 4x Propeller Pairs + Batteries + Battery Charging Hub + Propeller Guard Set + Micro USB Cable + Propeller Removal Tool + Padded Carrying Case + Mad Cameras Brush Blower – Cleaning Kit – Microfiber Cleaning Cloth

Flying Tello couldn't be easier! Just pull out your phone to fly anytime or anywhere with intuitive controls. Capture pro-level photo and video with EZ Shots and share them on social media from your smartphone.

Smart Interactive Drone; 720p Videos

5MP Photos; Takeoff and Landing from Your Hand

Intel Processor; Programmable via Scratch SDK; Free Tello App with User-Friendly UI; Compatible with Bluetooth Controllers

NRs 22,320
DJI Mavic Air
The ultraportable Mavic Air features high-end flight performance and functionality for limitless exploration.

The portable Mavic Air houses a 3-axis mechanical gimbal with an angular vibration range reduced to 0.005° and is equipped with dampeners that help ensure steady shooting

The Mavic Air can shoot 4K video at 30 fps and record footage at 100 Mb/s

The Mavic Air's onboard camera integrates a 1/2.3″ 12MP CMOS sensor and an f/2.8 lens with a 35mm-equivalent focal length of 24mm to shoot high-quality photos and videos

HDR Photos , DSP Acceleration, 12-megapixel CMOS sensor,8 GB of internal storage
NRs 1,28,250
DJI Spark Fly More Combo Red
Intelligent Flight ModesSmart, reliable, and incredibly intuitiveQuickShotVideos with a Tap

High-Performance CameraAmazing images and stabilized videoMechanical Gimbal StabilizationShake-Free Shots

Flight PerformanceAwesome potential, immersive experiencesPowerful Propulsion Speed and Precision Control

Flight SafetyWorry-free flight in the palm of your hand;VPS range : 30 m

2-Axis Stabilized Gimbal Camera, 12 MP camera

NRs 91,670
DJI Mavic 2 Zoom Drone
See the Bigger Picture: Powered by a 1/2.3 inch CMOS 12MP sensor with up to four-times zoom, including a two-times optical zoom (24 – 48mm).

Up to 31 minutes flight time, 44 mph max speed, 905g takeoff weight, 3-axis gimbal for steady shots, 8GB internal storage, SD card support up to 128GB

Enjoy live view in real time during flight and record 4K videos at higher bitrates with advanced H.265 compression.

Functions include ActiveTrack 2.0, Dolly Zoom, Omnidirectional Obstacle Sensing, Hyperlapse, Low-Noise Design, HDR Photos

12 MP 1/2.3" CMOS Sensor
48 MP Super Resolution Photo
4x Lossless Zoom FHD Video
Dolly Zoom
NRs 2,08,050
DJI Spark Quadcopter Controller Combo Alpine White
Intelligent Flight ModesSmart, reliable, and incredibly intuitiveQuickShotVideos with a Tap

High-Performance CameraAmazing images and stabilized videoMechanical Gimbal StabilizationShake-Free Shots

Flight PerformanceAwesome potential, immersive experiencesPowerful Propulsion Speed and Precision Control

Flight SafetyWorry-free flight in the palm of your hand ; Propeller guards are recommended when using these functions.

2-Axis Stabilized Gimbal Camera , 12 MP Camera

NRs 66,500
DJI Osmo Mobile 2
Share Your Story:The Osmo Mobile 2 is a handheld smartphone gimbal made for the storyteller in all of us. Whatever your passion, wherever your destination, and whenever you feel inspired, capture moments with cinematic movement and incredible ease. Using a lightweight design, intelligent functions, and a long-lasting battery, the Osmo Mobile 2 lets you share your story.

Stable and Smooth Moves:The Osmo Mobile 2 was built to film on the go. Just select your subject and ActiveTrack will follow, using built-in sensors and a brushless motors to ensure stability. Whether it's small vibrations from a skateboard or more intense instability from jumping, this smartphone stabilizer stays steady.

Lightweight and Portable:Now you can take your story anywhere. The Osmo Mobile 2 is made of a high-strength composite material cuts the weight to just 485g, perfect for all-day use. Also, its modified design now supports more compact folding for increased portability. Move, shoot, and share with the Osmo Mobile 2.

Hours of Live Streaming:Go live! With up to 15 hours of battery life, the Osmo Mobile 2 can also charge your smartphone for hours of streaming. Beautify mode also keeps you looking great in front of the camera.

Time in Motion.Cinematic Zoom Control.Reveal a Bigger World with Panoramas.

NRs 14,990
DJI Osmo Mobile 2 Part 1 Base
Engineered for professionals

Powerful and accurate. Supports red EPIC, Arri Alexa Mini and more cameras.

The Osmo Mobile 2 Base is used to fix the Osmo Mobile 2 on tables or other level surfaces so that it remains stable without tipping over.

Weight: 158.4 g

Size: 10 x 10 x 3.5 cm

NRs 1,420