Xiaomi Mi Mix 3 with sliding camera,10GB RAM and 5G officially confirmed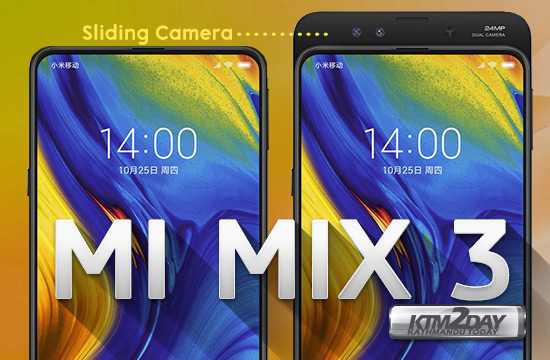 We are less than 10 days from the official unveiling of the next flagship smartphone from Chinese manufacturer — the Xiaomi Mi MIX 3. The Android manufacturer has already started to spread several teasers , hints on the device itself. The latest teaser is now released on the official page .
Undoubtedly, the Xiaomi Mi MIX 3 is going to be the manufacturer's main flagship of 2018.
Also read — Oppo R17 Neo – Specs,Features,Price,Launch Date revealed
In Chinese social network Weibo, the company has confirmed one of its main specifications – it will have 10 GB of RAM  and will be the first commercial 5G smartphone with such a feature. Xiaomi uses Qualcomm Snapdragon X50 5G modem and supports RF solution on this handset.
In addition to these specifications, teaser posters for the Xiaomi Mi Mix 3 also indicated that it may come with "slide-out cameras" with non-motorized version.
Xiaomi co-founder and president, Lin Bin, said that he made several design plans for the Mi MIX 3. According to him, Xiaomi applied for the technical patent of a pop-up camera phone in 2015. The engineering of the pop-up camera smartphone is also ready but he finally chose the slide screen for the Mix 3.
A recent screenshot of the Xiaomi Mi MIX 3 multitasking page shows that the Mi MIX 3 display has a resolution of 2340 × 1080 with an aspect ratio of 19.5: 9. This makes it the first Xiaomi OLED screen with a 19.5: 9 aspect ratio.
The Xiaomi Mi MIX 3 may come with a Qualcomm Snapdragon 845 processor. This will be the first-ever Xiaomi smartphone with 10GB RAM and it may just be the world's first ever 10GB RAM phone to hit the market (OPPO FIND X 10 GB version is currently in the works and not launched yet).