FlexPai, the world's first foldable smartphone with Snapdragon 8150 launched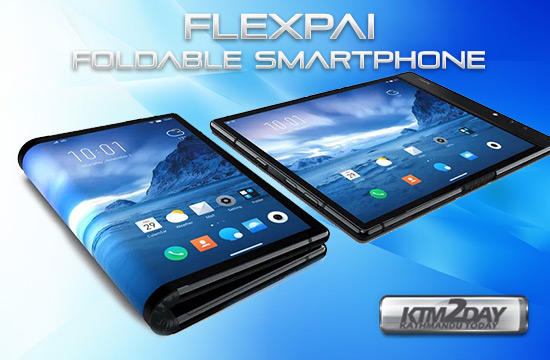 Companies such as Samsung and Huawei were struggling in the race for a foldable smartphone, but a Chinese manufacturer you have probably never heard of has beaten the smartphone giants in the race to release the first phone with a foldable display.
Rouyu Technology(Royole Corporation), today, released the FlexPai, the first foldable phone with a flexible display that can be folded in half without any problem.
When opened, the device presents a single display measuring 7.8in (19.8cm) – bigger than many tablets.But when folded up, it presents three separate smaller screens – on the front, rear and spine of the device.
The six-year-old company said it would hold three "flash sales" to consumers in China on 1 November to offer the first product run.
The phones will be priced between 8,999 and 12,999 yuan ($1,290 to $1,863; £1,011 to £1,460) depending on the memory and storage specifications selected.
In addition, Royole said it would also offer a slightly different version of the devices to developers across the world the same day.It intends to start deliveries in "late December".
The launch has caught many industry watchers by surprise.It was widely believed Samsung or Huawei would be the first to sell such a device to the public.
Samsung was expected to preview its efforts at an event in San Francisco on 7 November, but is not understood to be ready to put a product on sale.
The device comes in three configurations – 6GB+128GB, 8GB+256GB, and 8GB+512GB. It also has dual rear cameras – a 16MP wide-angle lens and a 20MP telephoto lens. The camera is on the left side when the device is laid out flat.
Rouyu Technolgy also says the device supports a proprietary fast-charging technology called Ro-Charge that can charge the device from 0 to 80% of  3,800 mAh battery in 1 hour. Ro-Charge is said to be 40% faster and has an efficiency rating of 94% and also has 3-layers of protection.
Videos posted to social media of the FlexPai in action, however, indicate the version of Android they run still needs some work.
In particular, the display is shown to flick between different orientations after being switched from one mode to another before settling.
One expert said the smartphone was unlikely to become a bestseller but was impressive nonetheless.
Flexpai – Specification
| | |
| --- | --- |
| Chipset | Qualcomm Snapdragon 8150 |
| RAM memory | 8GB |
| Internal Storage | 256GB |
| Back camera | 16 MP + 20 MP |
| Frontal camera | – |
| Battery Capacity | 3800 mAh |
| Screen Size | 7.8 inches |
| Screen Resolution | Full HD + (1440 x 1920 pixels) |