Nepal Telecom rolls out Fiber Internet in Major areas of Kathmandu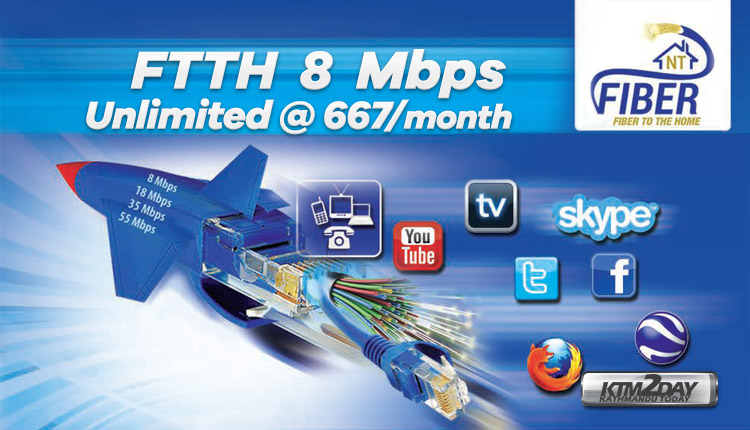 Nepal Telecom has now started rolling out fiber internet to major areas of Kathmandu valley.
The state owned telecommunication service provider recently appointed a new Managing Director, Dilli Adhikari .The new MD vowed to take the company to the next level by expanding broadband services to rural areas and expand its 4G services nationwide.
The company has now started distribution of FTTH sevices to major parts of the Kathmandu valley where previously it was only available to limited areas.
Nepal Telecom's internet packages come with triple play services (voice, internet, video)- high speed broadband internet service  as well as IP based voice service and multimedia service. The company is providing free voice over IP and free television viewing option through IPTV service – Wowtime. The company will provide one separate virtual phone number based on IP telephony to the clients which let's users make calls inside the operator's network just like a normal landline phone.
The new fiber internet plans introduced by NT now comes with unlimited internet data with plans starting from 8Mbps at a monthly charge of Rs.800 only.
Customers can subscribe to internet bandwidth of 8 Mbps, 18 Mbps, 35 Mbps and 55 Mbps.
The lowest 8 Mbps bandwidth is the only one available under monthly renewal scheme and is priced at Rs.800/month.
Customers willing to subscribe for quarterly package will have to pay Rs.2300 for 8 Mbps, Rs.4600 for 18 Mbps, Rs. 5700 for 35 Mbps and Rs. 6300 for 55 Mbps package.
Likewise, customers willing to subscribe half-yearly packages have to pay Rs.4350 for 8 Mbps, Rs.8000 for 18 Mbps, Rs. 9200 for 35 Mbps and Rs. 10,300 for 55 Mbps package.
Lastly, the yearly package is available at Rs.8000 for 8 Mbps, Rs.13800 for 18 Mbps, Rs.16000 for 18 Mbps and Rs.18,400 for 55 Mbps yearly package.
Packages
1 month
3 month
6 month
12 month
8 Mbps
Rs. 800
Rs.2,300
[~Rs.766/mth]
Rs. 4,350
[~Rs.725/mth]
Rs. 8,000
[~Rs.666/mth]
18 Mbps
N/A
Rs.4,600 [~Rs.1533/mth]
Rs.8,000


[~Rs.1333/mth]

Rs.13,800 [~Rs.1150/mth]
35 Mbps
N/A
Rs.5,700
[~Rs.1900/mth]
Rs.9,200
[~Rs.1533/mth]
Rs.16,000
[~Rs.1333/mth]
55 Mbps
N/A
Rs.6,300


[~Rs.2100/mth]

Rs.10,300 [~Rs.1716/mth]
Rs.18,400
[~Rs.1533/mth]
Nepal Telecom will avail free CPE router to customers subscribing yearly packages. The installation costs will attract Rs.500 for registration fee and a drop fiber cable of upto 100 meters is provided free of cost. There is no deposit charges as other ISPs charge but Fair Usage Policy(FUP) is applicable on all internet packages.
Availability

Nepal Telecom is distributing FTTH Service from following exchanges in following areas:
In Kathmandu Valley
| | | |
| --- | --- | --- |
| S.N. | Service Available Area | Distribution Office |
| 1 | Durbarmarg, Kamaladi, Kathmandu Plaza, Jamal, Chetrapati,Thahity, Bangemuda | Telecom Office Sundhara |
| 2 | Thamel, Dillibazar, Lazimpat, Sorhakhutte, Putalisadak, Ghattekulo, Maitidevi Chowk, Charkhaal, Kamalpokhari, Nagpokhari | Telecom Office Naxal |
| 3 | Swoyambhu, Sitapila, Kalanki, Soalteemode, Kuleshwor, Kalimati, Balkhu, Tahachal, Bafal, RabiBhawan, Soltimode | Telecom Office Chauni |
| 4 | Gwarko, Sanepa, Kupondole, Manbhawan, Jhamsikhel, Patan durbar square, Patan Hospital, Pulchowk, Kumaripati, Lagankhel, Satdobato, Hattiban, Kandevsthan, Jawalakhel, | Telecom Office Patan |
| 5 | A1 Party Palace area, Nagaun Dobato, Panga dobato, Chikhu town planning, Bhaganjal area, Tyanglafhant Area, Khanepani office area | Telecom Office Kirtipur |
| 6 | Gothatar (Namuna Chowk,Kandaghari Chowk, Sunrise chowk), Suryamukhi chowk, suncity, Pepsicola,Pepsicola Townplanning,Manohara Phant(Eye Hospital) | Telecom office Thimi |
| 7 | Sainbu (Bhaisepati Town Planning), Bhaisepati , Binayak Colony | Telecom Office Sainbu |
| 8 | Khusibu, Nayabazaar, Kaaldhara, Basundhara | Telecom Office Gongabu |
| 9 | Mid Baneshwor, New Baneshwor | Telecom Office Babarmahal |
| 10 | New Building of Airport | Telecom Office Chabahil |
| 11 | Basundhara | Telecom Office Hattigauda |