Government to allot public shares worth Rs 102.28 billion to build hydel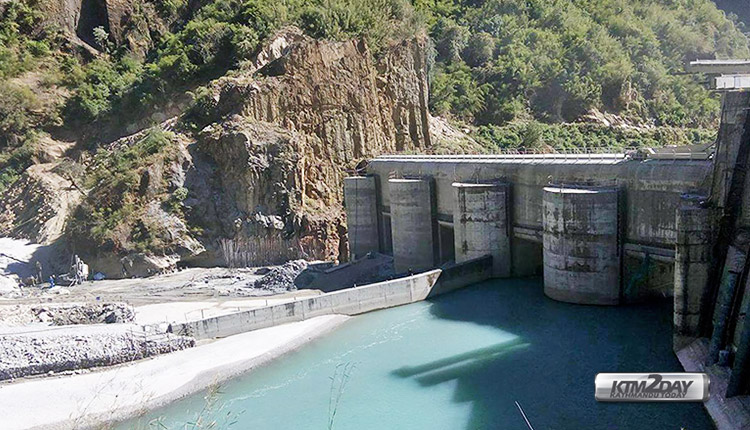 The government has said it will allot shares worth Rs 102.28 billion to the public to raise funds for constructing hydropower projects with total installed capacity of 3,479 megawatts. The Ministry of Energy, Water Resources and Irrigation stated that it planned to build 19 hydropower projects under its flagship programme — Nepal's Water, People's Investment.
According to the ministry, they have finalised all the details and will launch the programme on Thursday so that all Nepalis have a certain share in the country's hydropower projects.
Minister of Energy, Water Resources and Irrigation Barshaman Pun had unveiled a white paper on July 1 with plans to develop hydropower projects, instal transmission lines and generate 15,000 megawatts of electricity within 15 years.
The ministry stated that as per the agenda of Nepal's Water, People's Investment, it had selected hydropower projects in all provinces on the basis of proportional representation so that people from all provinces got the opportunity to buy shares of hydropower projects.
According to Dinesh Kumar Ghimire, secretary at MoEWRI, the public will have 49 per cent investment in the projects the ministry has selected. As per the plan drafted by the Hydroelectricity Investment and Development Company Ltd, the remaining 51 per cent investment will come from the government and other companies that the government has established to develop the energy sector.
As per the government's plan, a total investment of Rs 698.80 billion will be required to construct the 19 selected projects. Of the total cost, Rs 208.74 billion will be realised through equity investment with the public receiving 49 per cent shares.
Chabi Pokharel, chief executive officer of HIDCL, said the government would give 10 per cent share to people directly affected by the projects and the remaining 39 per cent would be allotted to the general public.
The government plans to collect 51 per cent investment through different sources. It will collect Rs 22.46 billion from HIDCL, Rs 35 billion from Nepal Electricity Authority and its subsidiary companies, Rs 14 billion each from Electricity Generation Company, Nepal Telecom and Citizen Investment Trust and Rs 7 billion from Rastriya Beema Sansthan as equity.
Moreover, as per the HIDCL's plan, the government will collect Rs 35 billion from Employees Provident Fund, Rs 42 billion from CIT, Rs 35 billion from HIDCL, Rs 21 billion from NT, Rs 14 billion from Rastriya Beema Sansthan, Rs 7 billion each from Nepali Army, Nepal Police and Armed Police Force, Rs 21 billion from the public and Rs 42 billion from government treasury as loan.
The government also has plans to manage the remaining Rs 37.70 billion through issuance of bonds and debentures and could seek investment from non-resident Nepalis as well.
The government, meanwhile, has yet to select three hydropower projects with capacity to generate 649 megawatts in Province 7.
Selected Hydroelectric Projects

Project
Capacity (MW)
Upper Arun
725
Kimathanka Arun
482
Arun 4
372
Budigandaki Prok 2
240
Chainpur Seti
210
Seti 3
163
Budhigandaki Prok 1
100
Tamakoshi 5
96
Budhigandaki 'Ka'
75
Ghunsa Khola
72
Simbuwa Khola
70
Budhigandaki Gwar Khola
60
Upper Seti
50
Bheri Babai
48
Trushuli 3 B
37
Ikhuwa Khola
30