Google introduces Stadia : Console less video game streaming service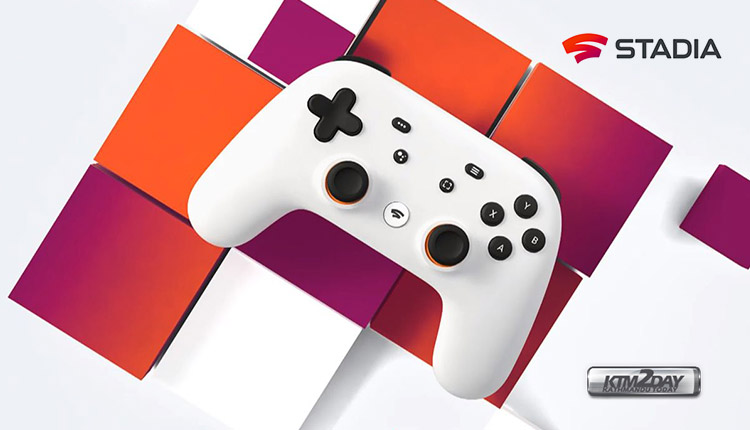 The Game Developers Conference 2019 (GDC) started and Google wanted to start at all high. Stadia is the new and ambitious platform of Google , which does not bet on a console, but it is a new service that will allow us to play streaming from any side and on any device, whether smartphone or computer.
Google promises that with Stadia we will forget about the downloads , about the patches, about having to install, everything will be "immediately" even from a YouTube trailer. Google says that once you press the "Play" button we will be in the game in five seconds.

As mentioned, Stadia does not require a console , but they do launch a special command, which has a button to capture images and content of the games to share directly. We also have a button for Google Assistant, which will serve to activate various functions of the service from the same command.
An important point is that the command connects directly to the WiFi network and so to the Google servers to play , not to our device, so, they say, the experience would be with minimum latency.
Are you stuck on a level ?
Google wants that from the same command we ask Assistant advice, to show us videos of how to overcome that area or riddle, and a lot of content that will change the way we interact with video games.
Google explains that Stadia is based on Linux and runs within more than 7500 nodes within the same Google network . In addition, it will be compatible with Unity, Vulkan and a wide range of collaborators.
During this launch, Stadia will be compatible from Chromecast, compatible TVs with Google Cast, iOS and Android smartphones and tablets, as well as computers from the Chrome browser. The maximum resolution of the games will be 4K HDR at 60fps , but they promise that in the future they will be able to offer resolutions of more than 120fps and even 8K.
For this, Google has partnered with AMD for the development of the platform, which, according to Google, offers a graphic processing power of up to 10.7 TeraFLOPS , which would be superior to the current generation of consoles.
In this startup, Google showed examples of 'Assassin's Creed' and 'DOOM Eternal', the latter mentioned that it took them "a few weeks" to adapt it for Stadia. And they promise, without giving details, a wide catalog of titles that will grow with the passage of time.
Stadia will be compatible with multiplayer, in what they have called "couch multiplayer", and everything will be on Google servers directly to offer an experience as quickly as possible without delays. Google claims that the Royale battle can range from hundred players per game today to even thousands.
Google also mentioned that Stadia will be cross-platform , so those compatible games will offer multiplayer with users in other consoles or mobile devices.
A gaming platform designed for the creators of YouTube
It's no surprise that Google has enormous power, but has not been able to with Twitch or YouTube Gaming . Most of the creators, or streamers , are still on the Amazon platform. Google wants to change this and Stadia is not born as a solitary service, but opens up to all Google services .
Without a doubt, the most interesting thing is that Stadia will be able to connect directly to YouTube , which will allow streaming our games directly and without special equipment or configurations. Everything from the command and the same platform.
With this, Google seeks to attract more creators to use Stadia by offering all the tools from the same site.
Internet will be our store
In the demo of Stadia, Google showed how in the video of a trailer of 'Assassin's Creed' on YouTube we see a new button "Play", which will allow us to buy the title and immediately play it if we wish. Well, according to Google this is not limited to YouTube, since the "Play" button would be available in various services , such as social networks.
Google points out that Stadia will be a kind of direct access from Twitter, Play Store, Facebook, Reddit, among others.
Google also becomes developer and publisher
With the arrival of Stadia, Google is also presenting Stadia Games and Entertainment , its new division led by Jade Raymond, which will be responsible for being the first studio first party of Google, where they seek to support independent developers to create their videogames and publish them for Stadia. .
The goal of this division is to become an important player in the development of games and thus not have to depend 100% of the big studios . Something similar to the movement that Microsoft has been doing for years on Xbox when adding independent studies to Microsoft Studios.
Google Stadia : Price and Availability
Google did not talk about prices, that we will know during the summer, where more technical details will be given as well as the games that will be in the launch of Stadia. On the other hand, Stadia will launch this same 2019 and will initially arrive in the United States, Canada, the United Kingdom and some European countries.
Stadia – Technical details
| | GOOGLE STADIA |
| --- | --- |
| RESOLUTION | Up to 4K HDR at 60 fps during launch and 8K and more than 120 fps in the future |
| PROJECT STREAM | Up to 1080p at 60 fps |
| CPU | Custom 2.7 GHz hyperthreaded x86 CPUs with AVX2 SIMD |
| GPU | Custom AMD with 56 counting units for 10.7 Teraflops with integrated HBM2 memory |
| GRAPHICS API | High performance Vulkan with real-time 3D graphics |
| MEMORY | 16GB combined VRAM with RAM with broadband of 484 GB / s |
| OS | Linux |
| GOOGLE DATA CENTER | More than 7500 global nodes from Google Edge Network |
| I SEND | WiFi with direct connection to Google Stadia |
| COMPATIBILITY | Devices with Google Cast: PC from Chrome, iOS, Android, Chromecast, Televisions |
| PRICE AND AVAILABILITY | TBA |