Huawei MateBook E 2019 is a 2-in-1 PC with Snapdragon 850 and Windows 10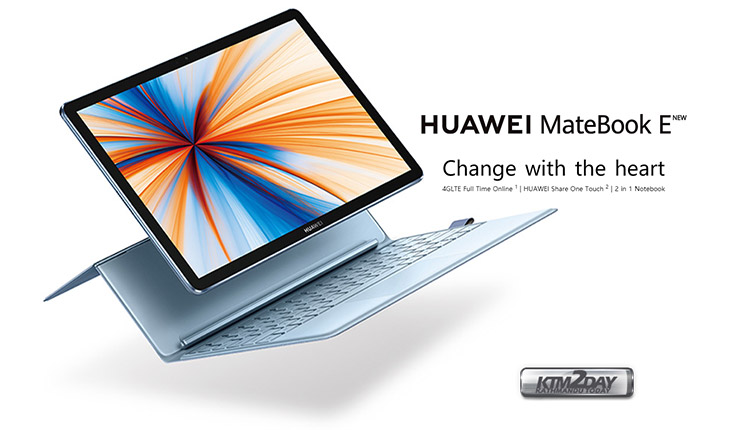 Huawei quietly announced a new laptop MateBook an ongoing conference in Shanghai. This is the MateBook E 2019 – which is a 2-in-1 convertible laptop running Windows 10 . But the big difference with the model this year is that it no longer depends on an Intel processor, because it uses the Snapdragon 850 CPU – essentially an overclocked Snapdragon 845 designed for use on machines running Windows 10.
The notebook sits between an iPad Pro and a Microsoft Surface. It has built-in support to hold the notebook in tablet or computer mode (with the keyboard on) and has always-on LTE connectivity thanks to the Snapdragon 850 . This is the first always-on PC from Huawei .There is also an integrated eSIM and side-mounted fingerprint scanner.
The Snapdragon 850 was designed specifically for use on computers with Windows 10 or Chrome, of course and so has a speed higher than the regular Snapdragon found in our smartphones. Specifically, it has four Kryo 385 cores running at 2.96GHz, while the efficiency cores run at 1.7GHz.
The SoC onboard means that Matebook E has fundamentally all the advantages of a smartphone, including a 4G X20 LTE modem with a maximum downstream of 1.3Gbps, which can be used with a nano SIM card, but also with an eSIM. In terms of memory,it has at our disposal 4 or 8GB of RAM and up to 256GB of internal storage, with expandability pending confirmation. The 36.3Wh battery should be sufficient for 20 hours of use, showing well the capabilities of these chips in cost / efficiency.
The screen has 12 inches with a resolution of 2160 × 1440 and obviously touch function. It houses an 8MP selfie camera, while the main camera is 20MP.
This device features two models supporting 4GB RAM LPDDR4x + 128GB storage or an 8GB + 256GB configuration. The MateBook E features a detachable keyboard, although it is not illuminated. There is also compatibility with Huawei's M-Pen with 2,048 points of pressure sensitivity.
In terms of functionality, the Huawei Matebook E 2019 is a 2-in-1 that takes the look and engineering of Microsoft Surface, with a 12-inch screen with stand that concentrates hardware, and a detachable keyboard. But Huawei has spared no tools for the user and the audio is served by two stereo speakers, not missing the 3.5mm audio jack or a biometric reader. This in a 8.5mm thick format, which is not bad at all, comparing favorably with many smartphones.
Huawei is expected to launch the new MateBook E 2019 in China from CNY 3,999 (~ $ 595) for the 4GB + 128GB model . The availability of 2-in-1 to Western markets, including Europe and the US, has yet to be revealed, but the device can now be purchased from Huawei's China website.
We are yet to see if a PC running a Snapdragon 850 is worth its price. In addition to the long battery life , many professional-grade software, including 64-bit applications , can not run in native mode on machines as they can on the machine with a desktop class non-ARM CPU.