Vivo Apex 2019, futuristic 5G smartphone showcased in Nepal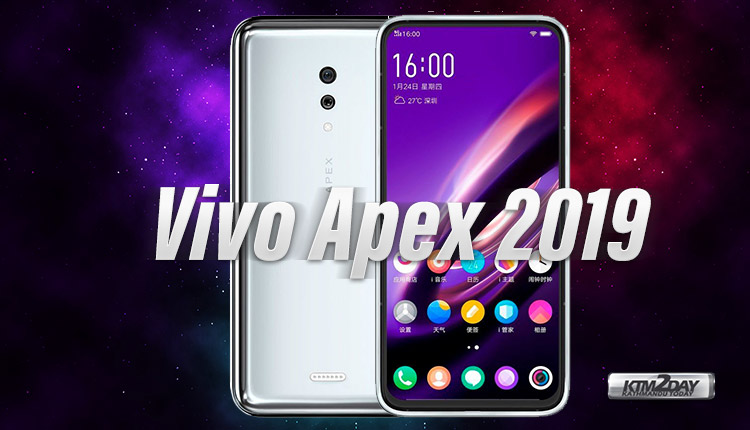 Vivo showed its concept smartphone Vivo Apex 2019 back in January to the world and this device has been now showcased in Nepal.
Vivo Apex 2019 shows us what could be the future of smartphones. Its design is as minimal as possible, featuring a curved glass construction. Its front panel consists almost entirely of screen, eliminating any space for notches or camera hole of any kind – in fact, this smartphone does not even come with a front selfie camera.
On the other hand, with regard to its specifications, this smartphone concept represents itself as the company's flagship device.
Vivo has launched several concept smartphones in the past which includes – Vivo Nex, Vivo Nex 2, Vivo Apex  and the current Vivo Apex 2019 stands fourth in line to project what future smartphones designs may evolve into.
Much of today's Vivo flagships are derived from the original Vivo Nex smartphone which for the first time came with a near bezel less OLED display, motorized pop-up selfie camera and in-display fingerprint scanner. Other manufacturers like Huawei and Xiaomi's Redmi are today ready to cash in on this concept with the launch of new smartphones in 2019 for which the market has responded positively. Huawei has recently launched the P Smart Z and Redmi's upcoming flagship K20 Pro is almost ready for launch in next couple of days.
Coming back to the Apex 2019, the concept design is somewhat unusual because it doesn't come with any physical buttons on the side frames nor does it come with a front selfie camera. All the ports and holes from the body has been eleminated and replaced by a technogies that are not available or seen in even flagship devices launched by other companies.
Vivo's APEX 2019 is also the company's first 5G smartphone that offers an ultra-simple and uniquely recognisable design with Curved-Surface Waterdrop Glass and no openings, seams or bezels for a simpler user experience. Packed with cutting-edge technologies and features, the APEX 2019 showcases a brand-new minimalist concept that takes smartphone design to a whole new level.
With the goal of enhanced usability and simplicity at the core, APEX 2019 offers consumers a glimpse into the future of smartphone design and development. The Super Unibody design and Full-Display Fingerprint Scanning technology, among several other breakthrough features, make APEX 2019 a truly exceptional smartphone that demonstrates Vivo's continuous exploration and pursuit of exceptional innovation for consumers.
Super Unibody Design
The APEX 2019 introduces a sleek and truly FullViewTM design that renders the bezel extinct. The device successfully delivers an unconventional smartphone experience by completely removing physical buttons – instead adopting Touch Sense technology, which brings together capacitive touch and pressure-sensing. With carefully designed programming logic and software, the pressure sensors can tell if a user is pressing the frame and the capacitive touch can determine its position, providing extra-sensitive accuracy.
USB ports are replaced by a MagPort, a magnetic power connector which enables both charging and data transfer. This allows for a more streamlined user experience, as well as making the body more compact.
The APEX 2019 also turns its display into a speaker by using Body SoundCasting technology, transforming the entire APEX 2019 display into a speaker via the screen vibration function, avoiding the need for a speaker grill.
Full-Display Fingerprint Scanning
The APEX 2019 comes equipped with Full-Display Fingerprint Scanning technology, with a sensor covering almost the entire display. This enables users to touch almost anywhere on the screen to unlock the device seamlessly, supported by Vivo's cutting-edge Fingerprint Light function – when the user's finger is close to the display, the pixels around the touch point will automatically light up as an additional light source to help obtain a clear fingerprint image.
A larger sensor also enables more features to bolster security for using apps. When users wake their device from an inactive screen and press on the corresponding app icon to scan their finger, they can unlock and gain direct access to the app so that the experience is faster and more efficient than before.
Vivo's first Snapdragon 855 powered 5G phone
Vivo's first 5G smartphone runs on the Qualcomm Snapdragon 855 platform with 12GB RAM, a super-large memory of 512GB, and is equipped with Jovi AI Assistant, along with many other smart functions.
5G Smartphone for Variety of User Scenarios
The APEX 2019's 5G mobile network capability enables an enhanced experience for video viewing, cloud gaming and a variety of other user scenarios.
The APEX 2019 has also solved the challenge of limited motherboard space by using a Duplex PCB Design which has increased the available space by 20% to minimize the overall stacking space. This is Vivo's solution to free up space for the 5G modules, making the phone a true unibody 5G phone.
Vivo is pioneering 5G technology standardization empowered by a fusion of technologies including artificial intelligence (AI), Internet of Things (IoT), augmented reality and virtual reality. In the future, the deep integration of 5G and AI will become key to the development of the 5G smartphone era. Vivo will continue to explore the future of the smartphone as part of its commitment to provide users with a futuristic mobile user experience.
Vivo Apex 2019 Price in Nepal
Well, considering it is a concept phone, the device won't be available to the consumers – not in Nepal, not anywhere else globally. In fact, just like last year we may see Vivo using some of the technologies from the APEX 2019 in its upcoming phones later this year.
Last year Vivo adapted the pop-up selfie camera and in-display fingerprint sensor technology and used them in Vivo NEX, and later in the Vivo V15 Pro and V11 Pro, respectively. The same can happen this year too, however, there is no official word from Vivo on this yet.