Buddha Air starts flights to Kolkata, Guwahati next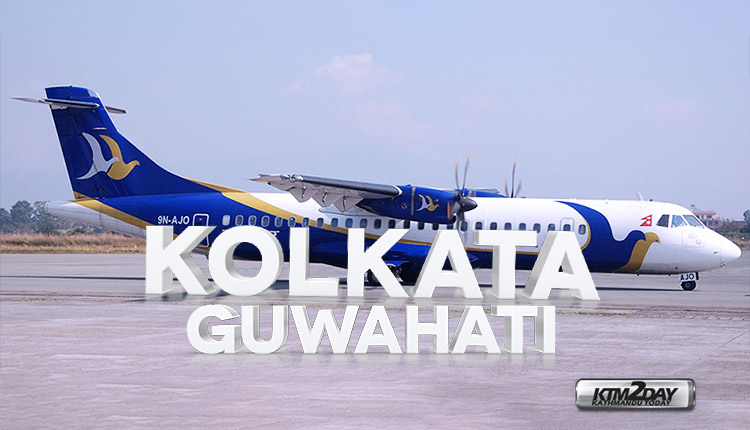 Buddha Air is launching budget flights from Kathmandu to Kolkata on Monday as part of its preparations to enter the long-haul international market by August 2020.
The private carrier said it had set the promotional fare for the 1 hour-30 minute flight at Rs 11,000 one-way. The special ticket price may last for at least a month. A seat on an Air India flight, which currently operates a Kathmandu-Kolkata service, costs Rs 20,000 one-way.
Buddha Air has also announced flights to Guwahati, the largest city in the Indian state of Assam, starting August, as part of its ambitious all-India connectivity. "Our travel package for Bengali tourists is compatible with Bangkok packages. It's cheap," said Birendra Bahadur Basnet, managing director of Buddha Air.
Buddha will operate flights to Kolkata—an artistic and cultural hub and the capital of the Indian state of West Bengal—on Mondays, Wednesdays and Fridays using its short-haul regional aircraft ATR 72. The flight will depart at 8:00 am from Kathmandu's Tribhuvan International Airport.
The maiden flight to Kolkata is sold out while the return trip has more than 90 percent occupancy, the airline said. Almost 50 percent of the seats on its flights from Kolkata to Kathmandu in June have been booked. Basnet said that the cross-border flight would be a test for Buddha. "By November this year, we will evaluate whether we can succeed in flying to international markets by procuring jets," he said.
The three flights on the Kathmandu-Kolkata sector will generate 180 seats per week. The carrier said if it succeeds in bringing 100 tourists from Kolkata weekly, it would be closer to realizing its dream of flying long-haul international markets using narrow-body jetliners. By August 2020, Buddha Air plans to fly to key Indian cities from Tribhuvan International Airport after leasing two narrow-body jets.
By August 2021, the carrier plans to add two jets and begin operations from the upcoming international airport in Pokhara. The construction of the modern airport in Pokhara is expected to be completed by July 2021. As per Indian government statistics, Indian outbound tourism stood at 24 million in 2017, said Basnet.
"This number is projected to nearly double to 42 million by 2025," he said. Last year, Nepal received more than 200,000 Indian tourists who came to Nepal by air.  "It's a short-term calculated risk. We don't make a profit on the route. It's a kind of preparation for us to set our course for exotic foreign destinations," he said. "The Kolkata flight accounts for only 1 percent of our total number of flights, so the risk is low," said Basnet. "If we succeed in the Kathmandu-Kolkata project, the sky's the limit for us."