Huawei's List of Devices eligible for Android Q update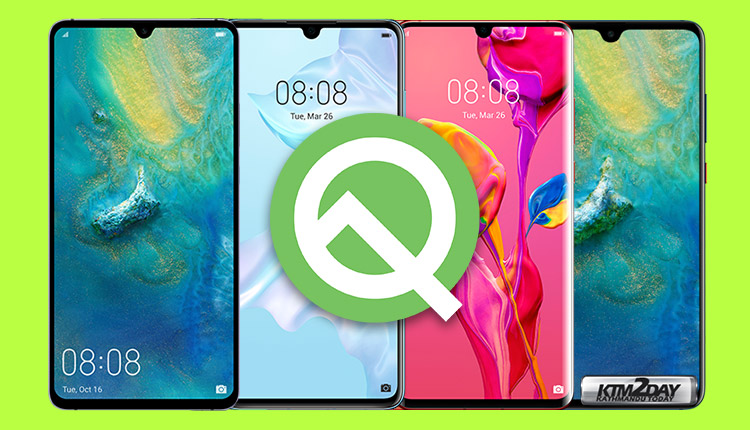 Recently a list of Huawei smartphones was revealed that will be guaranteed to receive the update for Android Q. However, some notable smartphones were still missing. Now through a tweet on Twitter, Huawei Spain has confirmed the addition of 6 more smartphones.
The new additions include smartphones only from the "Mate" family, one of the manufacturer's most popular.
Mate 10 / Mate 10 Pro / Mate 10 Porsche Design
Mate 20 Lite / Mate 20 RS Porsche Design / Mate 20 X
Huawei continues to struggle against the big problem caused by the US government, putting the Chinese manufacturer on its blacklist.
Despite the great uncertainties in the future of Huawei and its smartphones, the brand remains committed to providing the maximum possible support to its users.
Here's the full list of devices lined up for the Android Q update based on the EMUI 10:
Huawei Mate-series list:
Huawei Mate 20 [Officially Confirmed]
Huawei Mate 20 Pro [Officially Confirmed]
Huawei Mate 20 X [Officially Confirmed]
Huawei Mate 20 X (5G) [Officially Confirmed]
Huawei Mate 20 Porsche RS [Officially Confirmed]
Huawei Mate X
Huawei Mate 10 [Officially Confirmed]
Huawei Mate 10 Pro [Officially Confirmed]
Huawei Porsche Design Mate 10 [Officially Confirmed]
Huawei Porsche Design Mate RS [Officially Confirmed]
Huawei P-series list:
Huawei P30 [Officially Confirmed]
Huawei P30 Pro [Officially Confirmed]
Huawei P30 Lite/Nova 4e [Officially Confirmed]
Huawei P20 [Officially Confirmed]
Huawei P20 Pro [Officially Confirmed]
Huawei P Smart (2019) [Officially Confirmed]
Huawei P Smart+ 2019 [Officially Confirmed]
Huawei P Smart Z [Officially Confirmed]
Huawei Nova-series list:
Huawei Nova 4
Huawei Nova 4e
Honor device list:
Honor 20 Pro
Honor 20
Honor 20i/20 Lite
Honor View 10/Honor V10
Honor View 20/Honor V20 [Officially Confirmed]
Honor 10
Honor 10 GT
Honor 10 Lite
Honor Play
Honor Note 10
Honor 8X
Honor 8X Max
Honor 8C
Honor Magic 2 [Officially Confirmed]
Honor 8A
List of devices that will probably receive the Android Q update:
Huawei P20 Lite/Nova 3e
Huawei P Smart + (Nova 3i)
Huawei Nova 3
Huawei Y3 (2018)
Huawei Y5 2018 Prime
Huawei Y5 2018 Lite
Huawei Y6 Prime (2018)
Huawei Y6 (2018)
Huawei Y7 (2018)
Huawei Y7 Prime (2018)
Huawei Y7 Pro (2018)
Huawei Y8 2018
Huawei Y6 (2019)
Huawei Y9 2019 (also called enjoy 8 plus)
Huawei Y9 2019
Huawei Y7 (2019)
Huawei Y7 Pro (2019)
Huawei Y7 Prime (2019)