Everest Hotel plans to resume services soon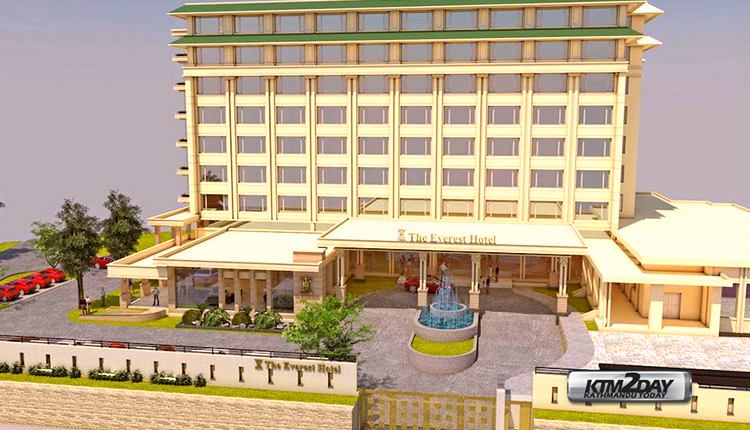 The Everest Hotel is preparing to resume its services within this year.
After being closed for over four years for renovations, the hotel management has issued a notice today calling its former workers interested to rejoin to contact its Human Resources (HR) Department within 15 days. The renovation work is in the final stage, as per the hotel officials.
After the devastating earthquakes of 2015, the government's monitoring team had given the hotel a 'red sticker', which basically meant that the hotel was unsafe to enter and major renovation works would have to be undertaken before it could accommodate guests. Among others, the hotel had suffered major cracks in its pillars.
The hotel had landed in controversy again in the month of June of 2015, as its workers filed a case at the labour court alleging the hotel management had not cleared their dues.
The years-long dispute was finally settled on February 23 this year, with the hotel management and the workers' struggle committee signing a 12-point agreement.
As per the pact, the management would clear all pending dues of the hotel staffers and guarantee salary hike for old staffers who were interested to rejoin after the hotel resumed its services.
Today's notice says that the old staffers who do not contact the hotel's HR department within the 15-day deadline could lose their jobs.
Meanwhile, on June 28, the hotel had issued a vacancy advertisement for 30 different positions in seven departments. "We are getting a good response to the vacancy ad and the new recruitments will depend on the number of old staffers who rejoin us," said Narayan Poudel, HR manager of the hotel.
The hotel had 125 full-time staffers when it closed in 2015.
As per Poudel, the hotel will be resuming its services with same facilities as before. The hotel has a total of 160 rooms, categorised into superior, deluxe, club and six luxurious suites. The hotel was established in 1987.