Xiaomi Mi 9 MIUI Android Q Beta Priority Experience now available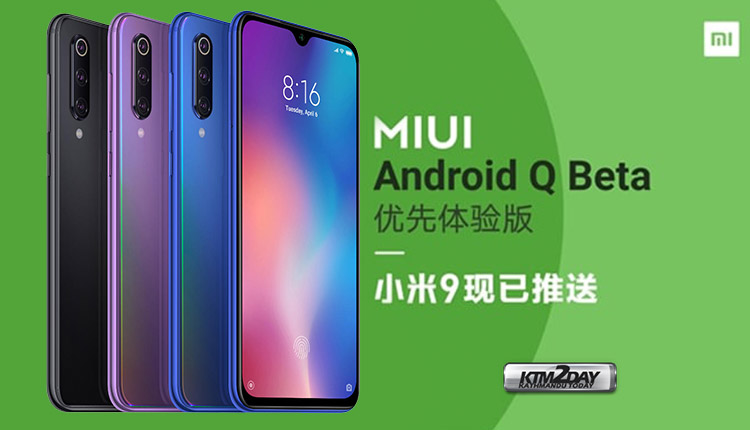 Xiaomi has confirmed today that it has released version MIUI Android Q Beta Experience Priority for Xiaomi Mi 9 in China. Earlier this month, the Chinese company had recruited closed beta testers for the Mi 9 smartphone in the domestic market.
The Priority Experience version has now been made available to Mi 9 beta testers . Users of Xiaomi Mi 9 eligible for Android Q can download and have the first experience of the latest Android Q 10.0  .
In May, Google officially had Android Q beta for up to 21 smartphones from 13 brands. Among them, Xiaomi Mi 9 becomes one of the first handsets to upgrade to Android Q beta . The Mi 9 will also be one of the first phones to be upgraded to the final version of Android Q when it arrives in August.
The testers Mi 9 beta in China that are with the developer version of Android Q may experience a version of Q Beta Priority Experience of Android with the OTA. Those who are on the stable version of Android 9 Pie will have to unlock the bootloader and clear the data before upgrading to the new version.
The Software Department of Xiaomi's Mobile Technology System shared a screenshot of the Android- based MIUI 10 screen to take a look at the latest MIUI update . Screen capture shows that the interface style of MUI 10 for Android Q is not much different than Android 9 Pie . This indicates that major changes to the user interface will come in MIUI 11 . The Android Q focuses on enhanced privacy features for users.
Users with Android Q supported phones have the power to decide if an application can access the site while it is running in the background. When an application begins accessing location data, a microphone, or a camera, Android Q displays a corresponding icon in the notification bar to tell the user which application is allowed.
The Android Q comes with native support for the dark mode. This resource is currently integrated in MIUI 10.x last month, further the company had confirmed the smartphones list which are planning to get Android Q beta in the last quarter of the year.