Redmi K20 Pro Signature Edition draped in gold unveiled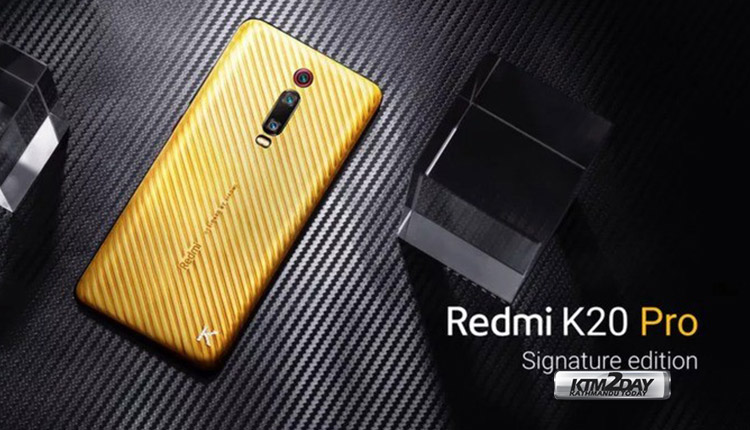 Xiaomi India announced on Twitter a luxurious version of their Redmi K20 Pro. The Redmi K20 series are a fresh batch of Flagship Killer 2.0 phones and are priced at around 35K-50K nepali rupees. However, the signature edition draped in gold and diamonds cost a whopping nepali Rs 7.5 – 8 Lakhs.
This is because they are made in gold with diamond details. This edition is limited to 20 units and is really a beautiful piece of technological marvel. Xiaomi stated that the back cover of the mobile phone is even made in gold with the 'K' in the lower right corner adorned with diamonds.
Also read : Redmi K20 Pro : Unboxing And Quick Review
Xiaomi usually lauches signature editions of their flagships
This is not the brand's first mobile phone to receive the special treatment with precious metals. The Xiaomi Mi 9 received a version coated with 24 carats of gold.
The signature edition has been carefully crafted by a company named – Golden Concept, that customizes mobile phones and iPhone covers. Xiaomi India has not specified whether it has re-partnered with the company but it is quite possible, given its history.
The Redmi K20 and K20 Pro are the brand's latest flagship
Both the Redmi K20 and K20 Pro bring an interesting features : the camera pop-up. By default this function is only present in the flagship but this time it is included in the basic Redmi K20 as well, a mid-range device.
Remaining features include 4000 mAh battery and in-display fingerprint scanner. In the case of the Redmi K20 Pro we have the powerful and recent Snapdragon 855 chipset. The Redmi K20 and K20 Pro can currently be bought for a starting price of nepali Rs. 35,000 and Rs.45000 in the Indian market.