Redmi K20 Pro Review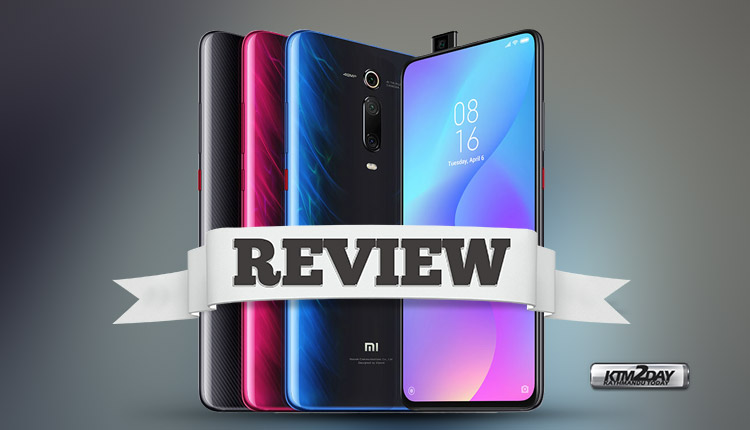 The Redmi K20 series which consists of – Redmi K20 Pro and Redmi K20 has been now launched in Indian market at prices ranging from NRs 35000-45000. The success of these smartphone in the Nepali market will now depend on the pricing of these devices, the Pro version comes with flagship Snapdragon 855 and the basic K20 with Snapdragon 730.
Buyers often turn to brands like Samsung, Apple and Oneplus for flagship smartphones but Xiaomi's Redmi brand has for the first time unveiled that it can also do it better and in more affordable way by presenting the flagship killer phones to the market. Hence, it named its flagship killer series as K20 which stands for Killer 2.0  .
The K20 series has two offers –  with Redmi K20 Pro being a premium variant and the basic Redmi K20 for the mid-range segment.
In this post we are going to review the Redmi K20 Pro premium variant with 8 GB of RAM and 128 GB of storage. Since this device is currently unavailable or awaiting its launch in Nepali market, we have in our hands a Chinese variant of this device which is of course imported straight out of China.
Xiaomi's Redmi is not known for flagship phones but for mid-range and budget devices. So this year Xiaomi separated its Redmi entity and created a separate brand and now the company has launched its first flagship device, the Redmi K20 Pro. So what does the first flagship from the budget smartphone maker look like ? To start off, its really cheap. Let's find the rest of the details below.
Xiaomi K20 Pro Specification
| | |
| --- | --- |
| Specs | Redmi K20 Pro |
| Platform | Android 9 based MIUI 10 |
| Screen | 6.39-inch full HD+ AMOLED display, 19:5:9 aspect ratio |
| Biometrics | In-Display fingerprint reader (optical) |
| Processor | Snapdragon 855 |
| RAM | 6GB/8GB |
| Storage | 64GB/128GB/256GB |
| Main Rear Camera | 48MP (f/1.8) Sony IMX586 |
| Secondary Rear Camera | 13MP (f/2.4) |
| Additional Rear Cameras | 8MP (f/2.4) |
| Front Camera | 20MP(f/2.2) |
| Battery | 27W Quick Charge 4+ fast charging support |
| Redmi K20 Price In Nepal | 8GB+256GB : Rs 46,999 |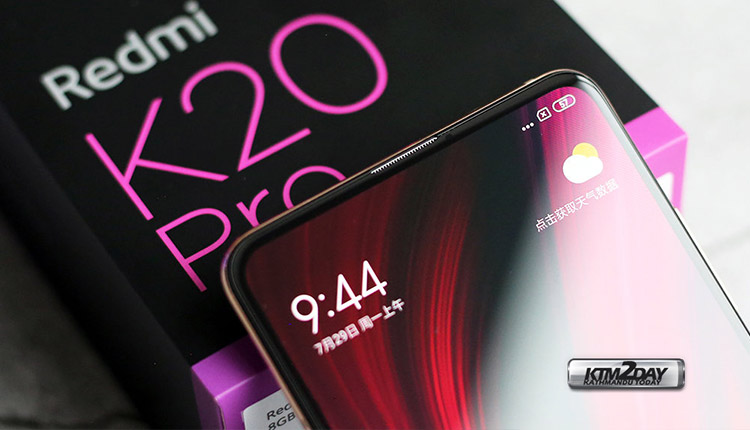 Contents Inside the Box
Redmi K20 Pro handset
USB cable (Type-C)
18W Wall charger
Sim ejector tool
Hard plastic case
Documentation Leaflet
Design and Build
The Redmi K20 Pro at a price point of nepali Rs 47,000 is one fully loaded smartphone. This is also the first phone from Redmi to get an AMOLED display, so you get a 6.39 inch display which is 19.5 :9 aspect ratio with a 2340 X1080 pixels of resolution. The display has a 403 ppi density.
Like most AMOLEDS this one has support for an always-on display for your time and notifications and it has various themes to choose from too.
Beneath the screen is one of the fastest under display fingerprint readers i have come across. Unlocking is a breeze, a lot more responsive than plenty of other phones we have seen lately.
The display is great and has excellent viewing angles with good amount of brightness at 600 nits. You also have good visibility indoors and outdoors and excellent color reproduction on the display. It's really immersive , its almost edge-to-edge with only a tiny bit of bottom chin and everything else is almost a bezel-less design. This allows you to watch videos in full-screen fashion completely engulfing the front of the phone.
There's also some additional features that allow you to game on this display including the palm rejection feature which we'll talk about later.
The Redmi K20 Pro is also a fantastic looking smartphone it is available in three colors – the carbon black (we have here) along with blue which is called the glacier blue and also in red which is called the flame red.
I do reckon that the red and blue are more popular colors, but i personally prefer the carbon black color because it kind of looks stealthy and comes with the red power button and also the red camera ring on the camera , i think its one of the better looking colors. The carbon black model we have here has a striped pattern lurking beneath the surface but the dazzling glacier blue is also quite striking.
On the front as well at the back is the Gorilla Glass 5, so this phone is durable from that aspect and then you also have a aluminum frame . There is no water resistant certification but it does have a standard nano coating on all the electronics, so its kind of splash resistant or if you use it in the rain it wont get damaged as much. But since its not water resistant like Oneplus 7 Pro , you can't dunk it straight into water.
Overall the phone feels excellent in the hand and is not slippery, its lightweight and only weighs 190 gms which is kind of light for the size of phone and the 4000 mAh battery that's in the device along with the general design of the phone. This is a lightweight phone for what it offers.
The pop-up mechanism is also robust, its rated for 3,00,000 actuations and is also auto-retractable so if your phone is falling down, this will auto-retract and hide away into its module.
The motorized pop-up selfie camera is accented with eye-catching led strips which glows in red when the camera is retracted in and out of its module.
The glass back is curved and its tapered edges gives the phone an elegant look. The accents in the camera and the power button also adds a nice touch too.
So in terms of durability and in terms of design the Redmi K20 Pro really checks out all boxes and delivers a fantastic product to you.
Audio
Now lets talk about audio quality , the phone has a 3.5 mm headphone jack and has an inbuilt DAC(digital-to-analogue converter) which enhances the audio output and if your using a Hi-Fi headphones you will able to enjoy a really good audio experience. And if you have headphones that offer higher impedance, you'll be able to get really precise audio from the device.
The main speaker is also really loud but it is tinny single bottom firing one , it's not the best audio output but it does have a good amount of volume. The speaker audio quality is pretty decent and it gets loud but does not distort at maximum volume level .
You can watch videos directly on this and you can play games but the fact that you still get a 3.5 mm headphone jack means you can always fix the audio problem by attaching speakers or headphones or use bluetooth for the same.
The K20 Pro also comes with a FM radio through headphone jack connection.
Connectivity
The device comes with support for dual 4G VoLTE and dual band GPS for accurate location tracking.
Even the phone call capability is robust , you get a really good ear-piece and good noise-cancellation on the microphone. Overall sound quality and network strength is pretty impressive on the Redmi K20 Pro. It also attaches with WiFi signals really easily and has a strong WiFi antenna so we didn't find any problems with using WiFi or with using the phone calls on this.
Performance
Now let's talk about performance in more detail. Because it has an Snapdragon 855 chip the phone is available in two formats with 6GB of RAM and 128 GB of internal storage and another with 8 GB of RAM and 256 GB of internal storage.
Now these are really good options because you will really not need more than 6 or 8 GB of RAM for your day to day usage. Even if you are an extreme user or even you are pro mobile gamer you will probably not need more than 8 GB of RAM, which is why these are really good options . The only thing is that the storage is not further expandable and its a fixed storage so if you want to – pick your variant carefully depending on your needs.But you do get dual sim capabilities but there is no micro-SD support.
Now by itself the K20 Pro offers really massive gain on performance you get upwards of 3,60,000 on Antutu Benchmark score and also 3500 on single core on Geekbench crossing 10,000 on multi-core. That is a really impressive results on benchmarks but that also translates to real world performance so we are getting excellent response time from the device , we are getting excellent gaming experience .
On games like PUBG you can turn on HDR and extreme in certain modes and also there is a game mode or game turbo as Xiaomi likes to call it and once you enable this you have specific settings for games that you can enable including this hack sort of thing where you can increase the screen response time allowing you to double click or tap on your gun faster so if your using a sniper or if your using a single shot M416 you'll be able to get those shots in succession quickly and efficiently with the screen because it will detect multiple taps much more efficiently.
This does consume more battery but gives a better response on the screen. For individual settings you also get enhanced visuals for your games in which if you set the visuals to extreme you can even play in night mode game on PUBG without requiring night-vision glasses. However, developers of PUBG have said that this is also equal to hacks applied in-game and players who use this will be banned, so be careful of using this mode on your phone.
So it enhances the game to that extent and it is sort of like a hack and sort of like a cheat allowing to better gaming experience.
Earlier I mentioned about palm rejection which can be enabled and you can have some touch resistant areas on the display. So depending on how you hold the phone, you can create a special zone on how much you touch the screen or how many accidental touches you have; you can have a rejection area that is –  small, medium or large.
Camera
The front camera on the Redmi K20 Pro pops up and its a 20 megapixel camera, its got a really good picture quality . You also get a really fantastic portrait mode and you also get your usual suspects, so you get an AI mode that allows you to get better pictures, you also have some filters and you have HDR mode on the front . You also have a flash which basically converts the screen into a flash when you are clicking a picture. You also get a portrait shot that you can get on the front camera. The front camera videos only shoot at 1080p and 30 frames per second and not even 60 frames per second which is little bit of a lay-down.
The rear camera is a 48 megapixel camera and you really get a good image quality on this as well. You can choose the 48 megapixel camera from the shooting mode and you also have several other shooting modes including portrait, night mode, full panorama and a Pro mode.
Pro mode allows complete customization of your shots . In the Portrait mode you do get finer control over your Bokeh effect so you can change your f-stop much like you see on the iPhone. You also have studio lighting effects and the results that we got are really good.
In the Standard mode you do get three lens options – including the tele- lens which gives you the 2X zoom and a wide-lens which gives you a 0.6X wide-zoom. This is really handy for clicking pictures of subjects that are closer to you, getting more in your frame and also getting more of a landscape shot giving you much more in your image than you would normally get with a standard 1X.
There's also a versatile 13 megapixel wide camera which is unusual for a smartphone . And a 13 megapixel camera means that people can click much more higher resolution wide images and will give you slightly better results than it would with for example a 5 megapixel wide camera.
Overall image quality from the phone is really impressive and the shooting modes allow you to really tweak out your images. Images in general have a lot of contrast, good dynamic range and accurate color representation . Video quality is also really good and really stable. There is a image stabilization even at 4K @ 60fps, giving you really smooth video output.
Front camera which offers excellent portrait shots and selfies allows you to customize and turn on filters. And it also has a enhanced beauty mode , if that's something that you use.
Battery
Now the phone has a 4000 mAh of battery and as far as the battery life is concerned, we found the device easily gives you a full day worth of use. You can get more if your a little stingy with your screen time and of course you too get an 18 watt charger inside the box and you can buy the 27 watt charger separately which will allow you to charge your phone quickly giving you almost a full charge in just around an hour, which is absolutely fantastic. The K20 Pro comes with a USB-Type C port to connect your charger to the phone.
In our test, we noticed that the Redmi K20 Pro takes around 50 mins to charge the battery full from 20% to 100%. Since we have never drained the battery to empty in our use case scenario so we assume that it may take around 1 hour 30 mins to charge the battery from empty to full.
The device can last upto 4 hours and 30 minutes during PUBG gameplay.
Security
The Redmi K20 Pro has a in-display fingerprint scanner which is common in flagships of 2019. The K20 comes with a seventh generation of in-display fingerprint scanner with enhanced speed and security.
The scanner is breezing fast when it comes to unlocking the device. The device can also record several fingerprints and assign it to different user accounts called Second Space, a feature similar to different user accounts sharing a same desktop pc , as seen in windows desktop environment.
If you want, face unlock feature is another option but you have to swipe up on the screen to pop out the camera to read your face for authentication.
Software
The K20 Pro runs the latest MIUI 10 over Android 9 Pie. It brings quite a few customizations over vanilla Android. One of the big differences is that, there is no app drawer here, all your apps will be kept on the home screen and the task switcher is vertically aligned in two columns. We feel lucky that the apps that came pre-installed didn't have any ads or banners in them. Some regions will get these by default such as India, and you will have to turn them off manually.
You can customize your home screen with different themes but they are only available if you set your phone to a supported region like India.
The phone runs MIUI 10 and has some sort of hybrid Poco launcher on it, you still get ads on the MIUI ecosystem but can be easily disabled but there are advertisements and apps that are pre-loaded but you can easily uninstall. And if you turn things off in the right places you can pretty much get an ad-free experience barring a few places.
Another area where the company has been criticized in the past is an overdose of ads across its custom MIUI, but it seems that is one topic Redmi K20 and Redmi K20 Pro buyers won't have to worry about.
There is lot of backlash from Xiaomi fans lately about forced advertisements on the MIUI but Xiaomi has also clarified that it also has to pay back to content creators for providing music and video contents on its apps free to users. Xiaomi has stated that except Mi Music and Mi Video app users of Redmi K20 Pro do not have to worry about any issue with forced ads.
As far as the user interface is concerned, because of the solid hardware we get a really good response from the screen and from the UI and you do have all your usual suspects of customization including full screen navigation, duplication of apps etc. This is a fully fledged Xiaomi phone from a Redmi aspect with a hybrid Poco Launcher there.
Verdict
Xiaomi or Redmi have pulled one out of their hat with the Redmi K20 Pro. This brings all premium flagship specifications, premium flagship performance and even premium flagship looks and durability. The phone has everything to offer and you will really have to nitpick to find real issues with the device for example it does not have a water resistance which may not be a major requirement for a lot of people and you have to buy the 27 watt charger separately.Another thing , that it bother me is that the haptic vibration motor is not as powerful as i would like on the K20 Pro.
Like i said these are only nitpicking issues and in general the K20 Pro really delivers what it promises and is one of the best phones to buy in the market today for performance, value, money, for the kind of specification it offers it really gives you a full deal.
At the cost of Oneplus 7 Pro device, one can buy two units of Redmi K20 Pro smartphones; both come featured with identical specification of  –Snapdragon 855 chipset, rear main camera of Sony IMX586 with 48 Megapixels, 4000 mAh battery with fast charging support, an in-display fingerprint scanner and also a pop-up selfie camera.
Redmi is the clear winner here and the crown of Flagship Killer now goes to Redmi K20 Pro undoubtedly.