iPhone 11 Series – RAM and Battery Capacity Revealed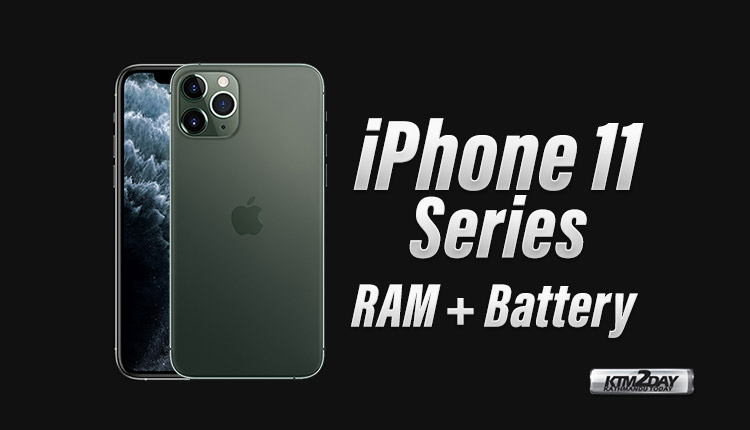 It has become a marketing strategy for Apple not to disclose battery capacity and RAM during its releases. At the launch of the iPhone 11, 11 Pro and 11 Pro Max was no exception, as the Cupertino giant compared the new iPhone 11 series battery life with its predecessor and stated how many hours they would last. In general, the company remained tight lipped on RAM size and battery specs.
At the presentation, Apple announced that the iPhone 11, iPhone 11 Pro and iPhone 11 Pro Max provide an increase in battery life by 1, 4 and 5 hours, respectively, compared with its predecessors.
Two days after the launch of the devices, we now have access to the alleged battery and RAM capacity of the three devices. The information comes to us from reputed leaker Steve H.McFly (@OnLeaks).
iPhone 11 – 4GB RAM + 3110mAh Battery
iPhone 11 is the successor to the iPhone XR released in 2018. Apple said it had one more hour of battery life than its predecessor. For a comparative notion, the XR had a 2942mAh battery. The device has also gone from 3GB to 4GB of RAM, which will surely allow more applications to open simultaneously. The iPhone 11 has now a bigger battery with 3110 mAh capacity.
iPhone 11 Pro – 6GB RAM + 3190mAh Battery
The iPhone 11 Pro, raises the RAM to 6GB and has a very similar battery of 3,190 mAh.
This is clearly the biggest jump out of the three in terms of battery. Its predecessor (iPhone XS) had only 2658mAh of battery, so a pretty long battery backup is expected on this device.
iPhone 11 Pro Max – 6GB RAM + 3500mAh Battery
This is the most powerful (and largest) model among the new iPhones. As expected, it has the largest battery. Its predecessor – iPhone XS Max – was only 3174mAh. This model also doubles its RAM capacity, and goes up to 6GB so everything goes smoothly.
Since iOS is a very different operating system from Android in many aspects, and consumption is one of them. The amount of RAM and battery consumption is totally different than to Android. But since every iPhones are compared with Android in terms of hardware specs and features, the numbers do not translate correctly. Hence, due to marketing strategy Apple does not mention the RAM and battery capacity of its iPhones.
Update : Also in a separate news, tests at AnTuTu Benchmark confirm that the iPhone 11, iPhone 11 Pro and iPhone 11 Pro Max comes equipped with 4GB of RAM. Tested versions of the iPhone 11 and iPhone 11 Pro received 256GB of internal storage, while the iPhone 11 Pro Max features 512GB of internal storage.
The test results obtained by latest iPhone 11 series on Antutu Benchmark are as follows:
iPhone11 – 4,56,655
iPhone 11 Pro – 4,55,452
iPhone 11 Pro Max – 4,62,098