Xiaomi launches Mi TV 4X and 4A of sizes 40 to 65 inches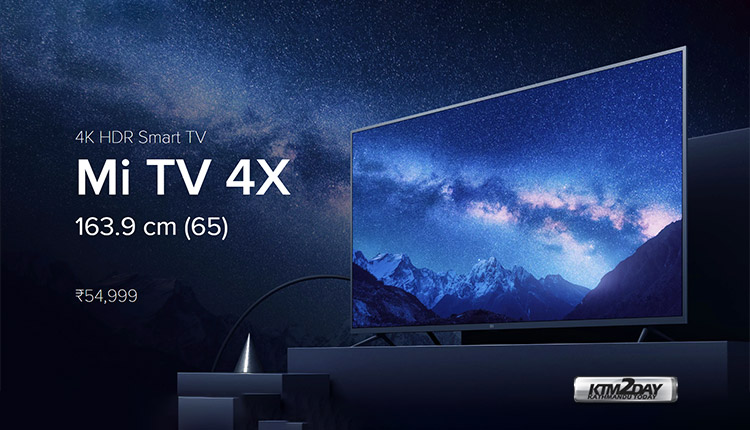 Motorola did not have time to enjoy the presentation of its smart TVs in India, as Xiaomi launched its new models of smart TVs in Indian market on Tuesday. We are talking about Mi TV 4A and Mi TV 4X models.
Xiaomi Vice President and Head of Xiaomi India, Manu Kumar Jain presented four new models of smart TVs at today's press conference in India.
First, Manu Kumar Jain reported that 80% of Xiaomi TVs sold in India are manufactured in the country itself. Currently, Xiaomi occupies the first place in the market of TV manufacturers in India and has sold more than 3 million Xiaomi Mi TV.
The new range includes the Mi TV 4X 65-inch (its biggest yet in India), Mi TV 4X 50-inch, Mi TV 4X 43-inch, and the Mi TV 4A 40-inch.
The Mi TV 4X models support 4K at resolution 3840 x 2160 at 60Hz while the basic Mi TV 4A only supports FHD resolution at 1920X1080.
Mi TV 4X – 65 inch, 50 inch and 43 inch
The Mi TV 4X is a flagship model and comes in 3 different sizes of 65 inch, 50 inch and 43 inch.
According to the company, the new lineup of the 65-inch Xiaomi Mi TV 4X offers 40% more screen space than a 55-inch TV. The TV has a modern design with a with a premium metal build and 0.43-inch bezels.. The TV uses vivid Color Engine and features a very bright display.
Xiaomi claims that this model comes with the brightest display in the entire range of Xiaomi TVs. The device features support for 4K resolution, extended dynamic range HDR 10, as well as Dolby Audio and DTS HD technologies.
The Mi TV 4X 65-inch features a 4K UHD (3840×2160 pixels) 10-bit display that supports HDR10 and is powered by a quad-core Cortex A55 SoC. The TV includes a four-driver speaker system that includes two dedicated woofers and two tweeters to produce 20W audio. Further, there are DTS-HD and Dolby Audio support. The TV also supports Bluetooth v5.0.
It was also announced that more streaming partners, including Netflix, had appeared in the PatchWall user interface. PatchWall 2.0, a new version of the user interface that provides access to live news without any registrations or logins, was introduced. The 65-inch Xiaomi Mi TV 4X is powered by Android 9.0 TV. Other features include a quad-core processor, 20-watt speakers and Bluetooth 5.0.
Mi TV 4A – 40 inch
The company also unveiled 43-inch and 50-inch Mi TV 4X smart TVs. Both TVs are equipped with 4K screens and 20 watt speakers. Finally, a more affordable 40-inch Mi TV 4A with Full-HD display and 20-watt speakers was also announced.
The new Mi TV models were the first in the world to receive the Android TV Data Saver feature, which will allow users to view more content with limited data.
MI TV 4X/4A Price in India
Xiaomi has priced the latest Mi TVs with the following prices :
Mi TV 4X  – 65 inch – INR 54,999 – NRs 87,998
Mi TV 4X  – 50 inch – INR 29,999 – NRs 47,998
Mi TV 4X  – 43 inch – INR. 24,999 – NRs 39,998
Mi TV 4A  – 43 inch – INR. 17,999 – NRs 28,798
The TVs will go on sale through Mi.com and Flipkart from September 29.