Redmi K20 Pro new version to boast SD 855+,12 GB RAM and 512 GB storage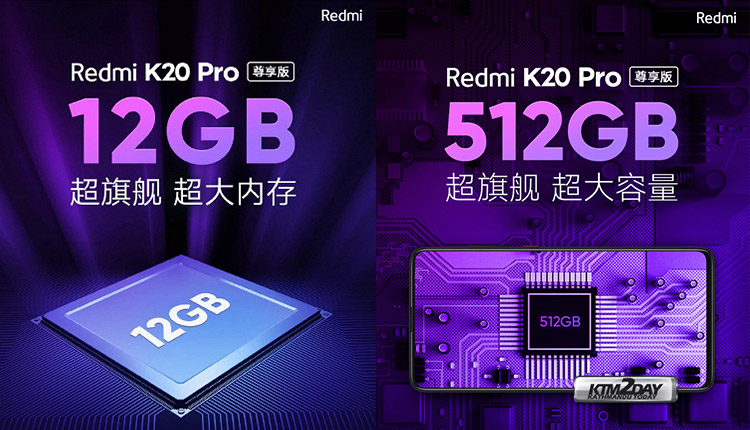 Yesterday, Redmi announced the release of a new version of the flagship smartphone Redmi K20 Pro on steroids.
Xiaomi is preparing an extremely interesting "Exclusive" edition of the flagship Redmi K20 Pro with a retractable front-facing camera. The smartphone will offer improved performance and improved cooling.
Obviously, the Redmi K20 Pro Exclusive Edition will be built on Snapdragon 855, and today a new teaser from the company reported that its built-in memory will be 512 GB, which will be the largest offering till date.
The company has not detailed the specification but it is rumored that the new version could come equipped with Snapdragon 855+ instead of Snapdragon 855 on the regular K20 Pro.
The device will come with 12 GB of RAM and 512 GB of internal storage as mentioned in official posters.
The presentation will take place tomorrow, September 19, so we will have more info from the official channel soon.
The camera on the Redmi K20 Pro may also come with software upgrades with better features . The Exclusive Edition will be obviously priced higher than the regular K20 Pro. It could be priced at around $600 in markets outside China. The company promises to start selling the exclusive Redmi K20 Pro tomorrow, immediately after the premiere.
And the biggest new glagship from Xiaomi  –  Mi 9 Pro 5G, Mi Mix 5G and MIUI 11, will be presented on September 24. So stay tuned for more news from Xiaomi this week !