First Look : Motorola Razr 2019 appears in live photo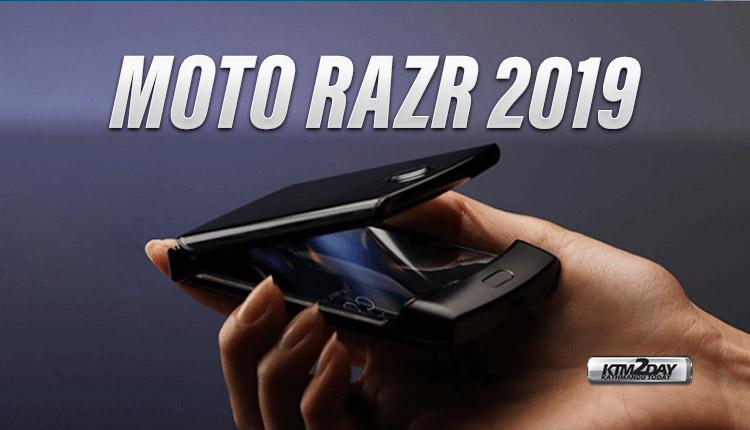 Samsung recently unveiled its design for the Galaxy Fold 2 based on a new design but inspired heavily on the original design of the Moto Razr clam-shell phone from 2004.
Lenovo, the company who now owns the Motorola company is expected to revive the historic Moto Razr phone in a new design this November.
Until now we have only seen third party unofficial renders of the upcoming Moto Razr 2019 but today we have official renders from the company itself.
The device had been rumored and leaked for months since the manufacturer filed a patent displaying the flip-shaped device and a folding internal screen. And now that the company is within days of announcing it, we have access to the first leaked images by leaker Evan Blass and the Mobielkopen website.
The first photo that arrived through the well-known leaker Evan Blass reveals the next generation of the Motorola Razr in all its glory. But the angle at which the product folds and the way it appears in the photo limits what is in sight.
At first glance, the folding smartphone looks pretty much the same as the RAZR V3 that Motorola launched fifteen years ago in 2004. But on closer inspection, it's clear that some major modifications to the original design has been added. The bottom frame looks a bit smaller and houses an important feature i.e., the fingerprint reader.
In the other images, now leaked by the site Mobielkopen, we see more detailed designof the smartphone. You can clearly notice the smartphone hinge, is simpler than the classic V3 of the 2000s.
This specification is accompanied by a 6.2-inch flexible OLED display that can be folded in half with the help of a new hinge. However, the panel may feature thick bezel on top, which houses the in-ear speaker and a variety of other sensors.
In the meantime, this device also includes a 2.7 inch secondary screen that reveals interesting information such as time, date, weather and notifications. Rumors also suggest that it may work in conjunction with the unique rear camera that supports Night Mode.
Although the specification sheet is not yet official, the latest information shows that it integrates a Qualcomm Snapdragon 710 chipset. This chipset was introduced in mid-2018 and has since been replaced by the more powerful Snapdragon 730.
This device can also have 4 GB of RAM and 64 GB of internal storage. However, there should also be a version with 6 GB of RAM and 128 GB of storage. The device is speculated to come with a battery of 2730 mAh.
The price of the Motorola Razr would be approximately $ 1,500, just under half of the other folding available today.
The announcement event for the new folding Motorola Razr is scheduled for less than two weeks from November 13, 2019 in the city of Los Angeles, United States.