Motorola Razr 2019 more live images and renders leaked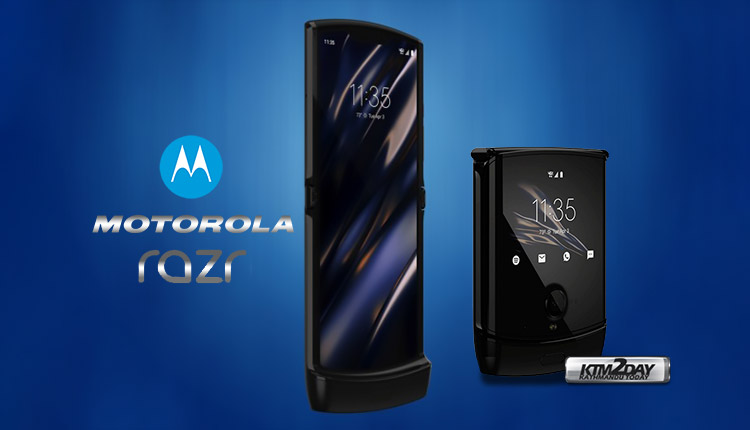 The Motorola Razr 2019 is coming. A day after the foldable smartphone appeared in alleged publicity images,more photos leaked on the web, now with the device in a person's hands and some official renders.
The image, published on the Chinese social network Weibo, shows the device running in someone's hands. The appearance is identical to the one we saw in the previous images. The model quite resembles the Razr V3, but with an OLED screen occupying the entire display area.
Several new images of the Motorola Rarz 2019, which is scheduled to be launched on Nov 13 has popped out on the web recently.
Today's new images shows the device in bright daylight which is a live image of the alleged smartphone . The second image on the right side above seems to be a official image for promotional purpose.
In the photo, the smartphone is shown in the user's hands unfolded and the entire display is visible very well. The screen turns out to be very elongated, the aspect ratio can exceed 21: 9. In the upper part you can see an impressive cutout for the front camera and speaker.
The design, indeed, closely resembles the legendary Razr V3 model, which in 2004 launched a real revolution in the phone market.
According to new data, the device is expected to sport a 6.2-inch OLED screen with a resolution of 876 x 2142 pixels. The secondary display, which is used for notifications and for taking selfies, has a resolution of 800 x 600 pixels. By the way, there is only one camera, because of folding design it can be used as both the front and rear camera.
The Motorola Razr 2019 will reportedly be powered by Snapdragon 710 SoC, paired with up to 6GB of RAM and 128GB of internal storage.
The new Motorola Razr will reportedly be priced at EUR 1,500 upon its launch at an event in the US later this month. The official debut is expected on November 13.